Troubadour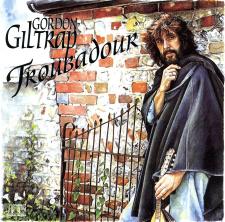 released 2001 La Cooka Ratcha / Voiceprint LCVP147CD
Update Feb 2010
CD no longer widely available, however this cd appears as part of re-release
EDSX 3007
along with a
DVD of Gordon live in Ventor 2008
.
Troubadour was originally realeased on the K-Tel label ECD 3390 in 1998 as a single cd.
It was re-issued by Voiceprint LCVP147CD in 2001 as a double cd.
The extra disc contains guitar-only versions of the fourteen original pieces.
String arranger Del Newman has done a potent job on the original Troubadour cd; his lush scores serve the music well, but occasionally the strings, flute and horn distract the listener from the real treat: the guitarist's playing. Gordon Giltrap is still among the strongest in acoustic guitar. His light touch and 'less is more' approach wrap you in a warm cocoon.
The medieval inspiration also becomes more obvious on the 2nd 'acoustic' CD (a strange choice of words, since the 'full version' music features only acoustic instruments anyway).
The album contains two cuts by Tim Rice, excerpts from Heathcliff which Giltrap performed live on every night of the British production of the play.
All the other pieces are original songs, except for the traditional 'Kerry Dancers' closing the set. His melodies are always strong and evocative, requiring very little or no accompaniment at all. That's why the solo CD is in some ways superior and a welcomed addition.
The wonderful original artwork by
Sue Martin
has been used as the theme for Gordon's new website.
Download available from
iTunes store
Earlier releases:
1998
K-Tel label - single CD version
CD - ECD 3390
CD 1

Guitars: Gordon Giltrap
Vocals: Sir Cliff Richard / Del Newman
Violins: Jack Rothstein / Maciej Rakowski / Boguslav Kostecki / Dave Nolan
Viola: George Robertson / Peter Lale
Cello: Tony Pleeth / Paul Kegg
Bass: Chris Laurence / Mike Brittain
Flute: Andy Findon
Horn: Frank Lloyd
Uillean Pipes: Dirk Campbell

CD 2

Guitars: Gordon Giltrap


Recorded at : Snake Ranch Studios
Engineers: Gerry O'Riordan / Cameron McBride
Mastered at: Vestry Hall by Iain Hodge

Cover Illustration: Sue Martin
Photography: Mark Hadley
Artwork: Red Cloud