General News
Jan 2021 News Update
Saturday, December 19, 2020
Hi folks.
I really can't mention Christmas 2020 really as we all know in our hearts that it was not what it usually is or what it should have been.
You Make Me Believe
For me my December was pretty eventful with two fairly high profile plugs for the charity single, both on the same day. In the morning I did a quick interview on Radio WM breakfast show to plug the record and in the evening on Midlands today. All it took was a phone call and a receptive person on the other end of the phone.
The interview for the telly was recorded in the afternoon on ZOOM with Nick Owen a lovely chap, and it went out after the main national news at about 7-45. They played the track and we had a chat, also in the studio via ZOOM was Arlo one of the choir members and he along with Lizzie his co-worker as senior nurses I met the night before my last lot of surgery. The interview went well enough but really apart from that we were hoping for some national response which sadly didn't happen. But to put things into perspective I'm sharing a Facebook Posting that I put up which truly says it all and reminds us all how lucky most of us are and of the wonderful memory that has been created around this remarkable project.
I just wanted to share something with you all. I recently received a lovely letter and card from one of the choir members who contributed to YOU MAKE ME BELIEVE. This beautiful soul was struck down with Covid back in March just a few weeks after the recording. She pulled through but was left with respiratory issues and exhaustion. She is currently awaiting spinal surgery.

She said "recording the song has got to be one of the highlights of my year"

This project has been a couple of years in the making from initial meeting to the release of this beautiful song by Carrie Martin a few weeks back. I am personally thrilled and proud of the end result, and although it hasn't had national recognition for me getting that letter alone made it all SO worthwhile.

That lovely lady along with all involved on that February day just before Covid struck will I'm sure carry that special memory of sharing precious time together creating something that has lifted the spirits of many and will continue to for a long time to come.

I wish that dear lady a speedy recovery from all that she is going through and say THANK YOU to her, the choir, and the team. It was a profound privilege to work with you all.

Sending much love.

Gordon Giltrap.xx
My clever webmaster Sue Holton came up with a virtual Christmas card fund raising idea to the raise the profile of this single whilst also helping to raise funds for the UHB CHRISTMAS APPEAL. I'm sure many of you joined in the scheme and contributed to the fundraising, so THANK YOU.
Musical Instruments news
This month I'm doing a little feature on a lovely man called Graham Warren to makes very pretty guitars in his workshop at home in Derbyshire.
D Day Mandolin
I'm also sharing some info on the amazing D Day Mandolin that came out a few years ago and is a reminder of all those brave boys who gave their lives in the last war. The photographs and history are outlined in the brochure that comes with each instrument.
This isn't a sales push for JHS, it's just a fascinating story about how it all came about through a remarkable man called Ken Small sadly no longer with us. You may have to enlarge the small print but I promise you it's worthwhile. Without Hilary's tenacity and vision it wouldn't have happened I promise you. She is one remarkable lady!
1962 Golden Hofner
In early December a lovely man named Michael contacted me about a Golden Hofner that he owns. Apparently I contacted him years ago when writing the Hofner Book with Nev Marten. Somehow I heard through the grapevine that he owned one and I asked if it was for sale, sadly at the time it wasn't. Anyway he and his beloved are moving home from Worcester to East Sussex this year and asked if I would be the custodian of it for a short time until they finally find a house they want, but in the meantime are moving into rented accommodation until then. He didn't want to put it into storage where it could be subject to cold and damp etc. Anyway Hilary and I are now the custodians. Here is a nice pic of him and me on a sunny December day collecting this thing of beauty. Two highwaymen collecting the Golden Hofner!
Michael has had the instrument since he was 16 and whilst it's with me I'm going to take it round to that wonderful maker repair man Roger Williams to do some work on it. It is a lovely instrument and of course very rare these days and deserves to be restored. I look forward to getting it back once the neck has been reset and attention given to whatever else needs looking at.
Here is a close up pic of Michael's lovely 1962 Golden Hofner. I never thought that I would have one in my possession for a short while but here it is prior to refurbishment next year. I'm looking forward to giving it a polish and playing it!!
Troubadour
I have more to tell in next month's news re TROUBADOUR by which time I will have details of where you can purchase the vinyl and an amazing offer on pre sales.
Online Guitar Lessons
By the way may I remind you all again about my online guitar lessons, here are the details once more.....
All enquiries about online guitar sessions should be made to Paul Roberts at pcrguitar@gmail.com
or call him direct on 07860 648068
Full info can be found HERE
Guitars of the month
This month I'm featuring two instruments made by Graham Warren. The one pictured left I bought in 2017 and recorded the piece THE STARS LOOK DOWN ON LINDA on it. The first incarnation of the track appears on the HEARTSONGS album I donated as a fund raiser for The Queen Elizabeth Hospital charity. I ordered another one of his instruments shortly afterwards and to justify having it I sold this one to our friend Jane Day (she of Fluid Fox fame) as she wanted it to be a surprise birthday present for husband Mark.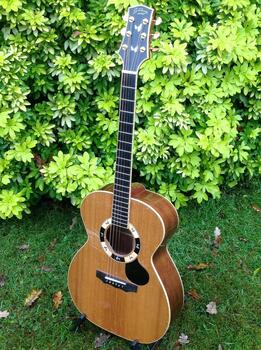 The one pictured right is the 2nd guitar that Graham Warren made. It was commissioned by me and made in October 2017. It is somewhat road worn I'm afraid but it has been used regularly over the past three years. As with all of Graham's instruments he uses the best material available. This has a cedar top and walnut back and sides and a lovely maple bound ebony fingerboard and ebony bridge with matching ebony bridge pins, and top of the range gold plated tuners. It has a really sweet sound with butterfly inlays around the sound hole. I fitted the pick guard.
It has a deep and unique tone and recorded really well. The original recording will be making an appearance again on CD later on this year with a special surprise guest adding his exquisite second guitar part.
My reasons for this special feature on this lovely maker are many. First of all due to failing eyesight Graham has decided to give up making these sweet instruments which is a real tragedy. Secondly his instruments represent ridiculous value for money. If he were a known maker these instrument would command a much higher price tag than the £750 current asking price!!
Graham is a lovely chap and makes them as a hobby really. I first saw his instruments being advertised on Ebay and I just couldn't believe the low asking price, so I indulged myself and took a trip to his workshop to find out more. It was sheer indulgence on my part buying another instrument but it sort of cheered me up after a rough couple of years and helped get my mojo back.
Graham says "Here is a small group of G's recent instruments. I like the one on the extreme left with the cutaway!"
If all you players want a beautifully well-made English guitar at a staggeringly low price then it's truly a no brainer, and would make a good second instrument if you didn't want to risk damaging your precious Fylde, Martin or Gibson. Give the dear chap a call, and when things settle after the vaccine has been rolled out take a trip to his Derbyshire home and indulge yourself.
Tel 01283-221384.
Email.gwarrenguitars@gmail.com
From the Archives
I have a recently discovered live recording from 21 years ago to share with you so watch this space.
Here are a few archive pics we came across whilst looking through the scrapbooks.
Me with Dave Hill of Slade fame at Musical Exchanges yonks ago.
With the legendary Steve Howe at a video launch in London, along with a stunning pic of Hilary.
Dutch Magazine Review Gordon Giltrap / Portrait re-issue
A lovely review here courtesy of Eddy Bonte in the Netherlands.
Sue Holton kindly forwarded this cracking review of my first two Transatlantic albums. The listener obviously liked it. From a distance of many years since their release I'm beginning to feel a little more kindly about that early stuff and view it as potential work in progress. Either way I'm very grateful for their kind words. Sue has created a link for your reading pleasure!
Gordon Giltrap: Gordon Giltrap / Portrait - KEYS AND CHORDS
Happy New Year to all my wonderful friends, thank you for all your support during these troubled times,
Stay safe
G. xx