General News
Feb 2020 News Update
Friday, January 31, 2020
Hello all I hope that your January was an easy start to 2020. As with most Januarys in the music business it pretty quiet so this month's news will be a slightly shorter one.
Woman Cd

The Woman album out at the end of this month on Angel Air records has already been put up on Spotify and will be released in Canada and the USA in March, which sounds impressive doesn't it!

You are probably all aware that this is a compilation album inspired by women, many tracks were commissioned by their loved ones. The opening track One for Billie first appeared on the Ravens and Lullabies album with Oliver Wakeman. When first recorded it was to a click track just in case percussion might be added but in so doing it lost a lot of its soul. I re-recorded it and am really pleased with this newly recorded version.

On a personal note it meant a lot to me to have Hilary's image used for the album cover artwork.


Orchestral Giltrap

I have recently been reading a biography of my favourite composer Vaughan Williams and my mind drifted back to the time when I was involved with my friends Cath and Geoff Olner and The Sheffield Philharmonic Orchestra and their superb performance of the Eye of the Wind Rhapsody at my Symphony Hall concert quite a few years back. My thinking was that I had all the parts and master score for the piece gathering dust here at home and that maybe by using social media I could get orchestras around the country interested in performing it.




The only problem I had was getting all the parts digitally copied so that a file could be created to send out to any interested parties. I posted on Face Book and my dear friend and occasional musical partner Adam Parrish came to my rescue and has undertaken quite a large task but says he's looking forward to it and it will available shortly to download FREE OF CHARGE for any orchestras wishing to perform this piece.

In the meantime it looks like the Sheffield Phil might be interested in performing the piece again so it all looks promising. Also whilst going through piles of orchestral parts I found a brass band arrangement of HEARTSONG created years ago by one of the members of the Brighouse and Rastrick Brass Band, so I shall be doing a similar thing with that score by getting it transferred over to a digital copy and see if there are any interested parties out there. This is now available to download FREE OF CHARGE for any interested parties to perform.

I am making no charge for the access to the scores for both pieces. It is just my wish that this music be out there for people to perform and enjoy.
If you represent an orchestra or band that would be potentially interested in performing either of these pieces just drop a quick email introducing yourself to Sue Holton at ggiltrap@gmail.com and she will arrange for you to download the scores. A bit more info HERE




Highly recommended DVD
Tony Palmers film of "Oh Thou Transcendent" The Life of Ralph Vaughan Williams.
I can't recommend this DVD highly enough. This along with a couple of fine biographies I found totally inspirational. What a truly great man.






















Jamie Giltrap Tribute charity fundraiser


Friday 31st Jan marked the passing of Jamie from our lives two years ago. I always loved this picture of us together. He was a beautiful child and the light of my life. This posting is also for the many friends of ours who lost their beloved children way before their time. They know who they are and we shared in their loss as they shared in ours. Love to Del, Dave and Paula, Sue, Liz and Martin, Roger, Liz and Roy, Anna and Andrew. Xx
On Friday January 10th I attended a tribute night to my late son Jamie at The Hare and Hounds King's Heath Birmingham. My pal Nigel Bates came with me. My daughter Sadie travelled up from Weymouth and by 11 pm the place was packed with over 250 friends and lovers of the man and his music. The event was under the umbrella of the Sepsis charity. By the end of the night £1700 was raised in Jamie's name.
I hasten to add that Nigel and I left well before 10 but the event went on until 3 am! It was a privilege to be there and to witness a Drum and Bass event in the very space that my son performed many times.

There were several major DJs performing who were in the main unknown to me apart from Steve (Digital) who has become a close friend to the family. The room was filled with love and I believe Jamie's spirit was present.
This could well become an annual event, such was the success of the evening. Much love to my extraordinary daughter in law Karen who played a huge part in the evening's organisation.
Recording News and John Devine

The new recording project is going well with Paul Ward. You may have seen a Facebook posting a few months back about finding a Uilleann pipe player for one of the tracks and a great player called John Devine (great name) responded and has already added his beautiful pipes to the track The Wounded Healer. He is currently adding his gifts to another VERY significant piece which I shall reveal at a later date, suffice to say that if it turns out the way I can hear it, it will be a significant step forward for the aforementioned piece.

Do check out John's website www.johndevinemusic.com if like me you have a love for all things Celtic but here is a brief bio:



"I've been playing Traditional music from an early age. Started my musical life as a drummer and became an All Ireland Bodhran Champion as a teenager. I was playing Tin Whistle and flute around the same time. Began learning keyboards in my early 20s and toured extensively in a wide variety of original, and covers bands in the UK and Europe.

I toured with Wild Willy Barrett for more than 15 years, whilst also writing, recording and performing my own material as a solo artist and for 'Devines', a trio that includes my wife Caz and son Joe. I released my first solo album in 2009 and have released 2 further albums and an EP. I have also worked with members of King Crimson and the Zombies. I also coordinated a small group of musicians to be the first to play Traditional Irish music at a royal reception at Buckingham Palace".


Nick Hooper

Nick dropped in just after Christmas to collect his beloved Armstrong Parlour guitar that I had fitted a new pickup to and gave it a wee facelift and fret polish. The great man was delighted.
Carrie Martin stayed with us prior to her trip to the NAMM guitar show. Here she is jamming with the great Mr Hooper.




Gone to a good home

This guitar has gone to a good home and is being enjoyed in the way it should be as opposed to gathering dust in my music room. If they are not played they should be re housed in a nice warm house.




Guitars used this month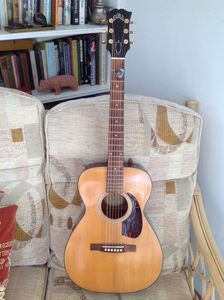 1963 Guild Troubadour - I use this little beauty a lot for composing, it's so light and compact with a sweet sound.






Yamaha LA8 - This lovely handmade range Yamaha LA 8 is getting better by the day and is an inspiration to play. Not in the same league as Fylde but nice all the same.


Gibson J200 - I used this lovely beast to record the track for the choir project last year and it worked a treat. If you get a good J 200 then hang on to it. This is indeed a good one.






Rogers Williams cross over Classical - I have been using this guitar a lot recently for recording on other artists tracks. There is something different about a sweet sounding classical guitar with bags of reverb in the mix.