General News
October 2014 News Update
Wednesday, October 1, 2014
Memories of the late John Gustafson
It was through these pages that I heard of the passing of my old friend and bass player John (Gus) Gustafson, who passed away on September the 12th 2014.
My memories of this charismatic unbelievably handsome bass player could fill many pages, but here are just a few memories to share with you. I still don't know how he came to join the Gordon Giltrap Band, who recommended him or indeed the circumstances of how it all came about, but suffice to say I'm glad he did!


When John joined the GG Band, he completed the rhythm section with the then new drummer Ian Mosley. What a dream team this turned out to be! Both John and Ian contributed to the Peacock Party album, the Fear of the Dark album and of course the Live at Oxford album, regarded by many as one of my best live albums.



Let us not forget of course the wonderful 12 inch colour picture disc of the Fear Of The Dark single. We did Top of the Pops together along with Whistle Test appearances and major tours. Ian of course went on to join Marillion.

Prior to joining me John had been in many stellar line ups including Roxy Music and the Ian Gillan Band. If truth be told my music really wasn't John's thing, John being an out and out powerhouse bass player, but my God he did fit in and brought a very direct approach to my music and live shows at that time, as many I'm sure will testify who witnessed those late 70's concerts.


He was a great devotee of Wal basses and certainly knew how to extract some great sounds from these legendary instruments created by the late John Waller. John G Perry my other bass playing partner and session man supreme was also a lover of Wal basses.


Because of his background from a tough area of Liverpool, John was definitely no nonsense old school, in his approach to life and music. He was a true Liverpool legend who was there from the very beginning of Mersey Mania, and started out playing at the Cavern with the Beatles, and was even managed as a solo artist by Brian Epstein! On the face of it John had it all. Great looks, great voice, great musicianship, charisma, the lot.
My feeling is that if he wanted to he could have been far bigger than he was, but John marched to the beat of his own drum, and therefore did exactly what he wanted. He was the original wild child!
He told me he got a call one day from Tim Rice asking him if he wanted to do a vocal session for a concept album based of the life of Christ. Tim offered him a session fee OR points from the sale of the album, but John being John thought "no one is going to buy an album about the life of Christ" so he just went for the session fee! BIG MISTAKE I'm sure you will agree!
The morning that the world woke to hear of the murder of John Lennon, I was due to go to London for a band rehearsal at Redan Studios. On arriving I was met by John, and of course we shared in the sadness of this news. For John he had lost an old friend, and well-remembered the night he was down the Cavern where he bumped into Lennon, who was admiring a new leather jacket that Gus had bought. Lennon liked it so much that Gus sold it to him for a fiver. How privileged was I to share this little bit of history with a man who was there from the very beginning.John led his life by the rules of the rock and roll jungle. For example, the band were doing a concert at the Colston Hall Bristol. We checked into the local hotel and went off for the sound check. On returning to my room I found that it had been burgled and my case with all my belongings had been stolen. When I reported this to the hotel reception the manager just quietly pointed to a disclaimer notice on the wall stating that the hotel took no responsibility for anything stolen from the rooms. I was stunned and of course had no legs to stand on. When I told Gus, he told me what to do to redress the situation, and that was to go back to the room, throw the TV out the window, destroy the sink and loo and generally wreck the room. Obviously this was not my way, but believe me John was deadly serious, and I know full well he would had done it if that had happened to him. Law of the rock and roll jungle again!


When John moved house to the part of south east London very close to where I was living I offered to help him move in. On the night I arrived there had been a burst pipe and pretty much all the decoration had been ruined, but John just took it in his stride, and I think we just went down the pub!


John paid me one of the best compliments ever, referring to me as a "gentleman" bless him.


When you were with him there was always an element of danger about him, as you never quite knew what he would do next. John truly lived life to the full and lived for the day, an attitude which I sort of admired but could never adopt, me being me with my fairly moderate approach to life.


I was sharing an on stage memory with Rod Edwards recently about John. We used to open the show with a piece entitle Awakening from the Visionary album, which started with a droning guitar riff and then a powerful B chord which the entire band played. On one particular night everyone except Gus played the B, John I think played a mighty B flat! Once the wrong note had been played John just glared at the rest of us wide eyed in an accusing way suggesting that the entire band had got it wrong! That's what you call a good recovery and truly thinking on your feet. What a true pro he was... grin!


No one messed with John and you really knew where you stood with him. My few brief postings on Twitter really only scratched the surface of my memories of this one off character.


The music world will never see his likes again nor should it. He came from a time and place in musical history that truly was a golden age for popular music.
There are many more stories I could tell about Gus and stories he related to me, but in truth they aren't suitable for these pages but are truly interesting in the re- telling.
I often thought about him down the years and wondered how he was doing. I know his partner Annie from my old record company became the love of his life. Annie was a true beauty and their union produced stunning looking children, who I'm sure inherited their father's musical gifts.

John spent the last part of his life in Kent. The Kent Online Newspaper ran a lovely tribute after his death with some great pictures. You can read it HERE


I hope you enjoy viewing some if these images of me on stage and on album covers with this remarkable human being.


Rest in peace John, it was a privilege to share part of your life's musical journey.


New Collaboration


I don't know if I mentioned this in past News pages but this link will take you to a very unusual collaboration between myself and producer/composer Chris McCormack. Chris has worked in the dance field of music for many years and makes his living by mastering music prior to it going to CD.


What happened was that I would supply Chris with my compositions and he would then "deconstruct" them to produce completely new music from all my guitar parts. This music to my ears has great potential for TV ads and even movies. The music has great atmosphere, and I'm so pleased I was open minded enough to give it a go.


Some of this music may not be to your taste if you're a lover of what I do normally, but this is truly" new" music and I find the listening experience very satisfying, and at times uplifting. Check it out HERE
Gigs of Note


Sept 5th Artifex Gallery Sutton Coldfield

My concert on the 5th of September at Artifex Gallery Sutton Coldfield was a great success with a sell out concert. The venue, which is stunning being a gallery on two floors featuring original artwork, jewellery and unbelievably beautifully crafted furniture, was the ideal location for this first ever concert put on at the gallery.

The audience was a joy and the reaction was really good. I think this will be the first of many concerts that the Gallery will put on in the future now that they know it works.


Sept 12/13 Heron Theatre Cumberland


A big thank you to Andrew Davies for helping to create two cracking nights at the delightful Heron Theatre Beetham. I just love the idea of doing two consecutive shows at theatres, as it sort of takes the strain out of travelling and setting up, and to be told that both nights have sold out does indeed give one a warm feeling inside.


Both sets of audience were lovely. The first night being a bit of a challenge as the audience were mainly regulars and the faithful few who quite rightly support all that goes on at the venue which is basically used for theatrical productions by pro's and semi pros' alike.

Bishop's Itchington


By the time you read this I will have done my concert for my good friend Martin Green at St Michaels Church Bishop's Itchington, with the lovely Carol Sampson. This concert was very much a part of the church's Faith Week.


The concert featured quite a few of the songs from the Echoes of Heaven CD along with solos from each of us. I don't confess to being a Christian and see myself more of spiritual person rather than a religious one (if that makes sense)and to be honest both Martin and Carol deserve my support, and I was glad to be there for them. You can listen to Mike Stranks' recording of 'Under A Blue Sky' HERE



St Michaels is very much a home from home for me having used this lovely church for fund raising events to rebuild the church roof and general fund raising for the church. A few years back I did a fund raising event for Rob Armstrong to help raise finances to re-build his workshop after the fire. I have done solo gigs there, gigs with Oliver Wakeman and Paul Manzi, with Ray Burley, we have even used the church for rehearsals prior to the Wakeman Giltrap duo tours! So as you can see it has played a large part in my life over recent years.



Well, it was a lovely evening, and it was good to have Keith Meredith in attendance along with the mighty Mike Stranks on the sound desk. I know for a fact that Keith will be writing his superbly worded review of the evening, so I shan't steal his thunder and just let you read his blow by blow account of the evening HERE

Ric Sanders


I decided recently it was about time to re-establish my friendship with Ric Sanders the brilliant fiddle player from Fairport Convention, and what a joy it was recently to spend time in each other's company again. Many of you will hopefully remember the shows we did in the late eighties as a duo and how dynamic they were. Circumstances at the time forced the duo apart, but Ric and I have been talking seriously about treading the boards again. I have no doubts whatsoever that God willing we could deliver the same sort of energy as we did then but in many ways better. We shall see eh!


In the meantime Ric has agreed to play on a new commissioned piece of mine for my good friends Trevor and Thea Raggatt.

DIY
Been doing a bit of tiny DIY during the sunny weather. Here I am with my superbly fashioned Hawk. Hope you're all impressed!
Cancelled Shows


It's not very often that shows have to be cancelled due to individual circumstances, and it always leaves sadness in my heart when this happens. Of recent times one of the Ravens and Lullabies band gigs had to be pulled in London due to poor ticket sales, and of late one of my favourite gigs in Sheffield at the Greystones had to be pulled for the same reason.


This concert was one I was so looking forward to because I was sharing the evening with Clive Carroll, but also a very special surprise guest had been booked! I have always played to a packed house there whether playing solo or last time with Oliver Wakeman. This time we were told by Chris the organiser that they had only sold 19 tickets in advance!


I really can't quantify the reason for such low sales, and I keep searching my mind for reasons why. Is Sheffield is going through a bad time financially at the moment, or is it due to a lack of promotion on the venue's behalf? It could be a myriad of reasons, but it still adds up to one thing... an empty venue. It also makes one feel as an artist a failure somehow, but that's just my personal insecurities coming out!


I can only apologise to the faithful few who did buy tickets, and really can't for the life of me understand the reason for such low ticket sales, especially when of late my shows generally have been superbly attended and in many cases folk were disappointed because they couldn't get tickets.


At the end of the day I'm really getting too old to travel fairly long distances to play to an empty room, it's humiliating for the artist and embarrassing for the audience. Sadly I doubt the venue will see me treading its boards again.


Recording

I have a new location for recording. It's the back room at St Michaels Church Bishop's Itchington!

In the engineers chair is Mike Stranks. We we're there on the 1st of September to record a new track for a commissioned piece for Trevor and Thea Raggatt. For SO many years now I have recorded here at home in isolation, and it's really good to work with someone like Mike who knows what he's doing and can lend an objective and sympathetic ear to what I'm doing. I loved it!


Next step, over to Ric the Sanders place to add the fiddle parts. Can't wait!
Here we are in action recording a new piece. The guitar I was using was the one I bought from Nik Kershaw, a beautiful Irish made Avalon guitar that believe me sounds wonderful!!
Guitar of the month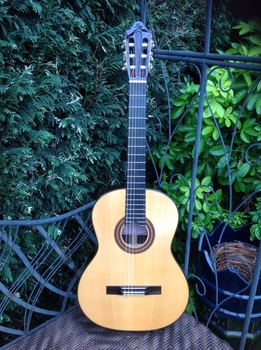 This month's guitar is Ray Burley's signature Santos Martinez, Martin Fleeson designed classical guitar. I had a small part in its creation by putting Ray and JHS together, and for suggesting that his guitar should be as near as possible a replica of the Fleeson which gave Ray YEARS of excellent service.

This guitar by the way is part of my collection and made its recorded appearance on the Ravens and Lullabies album on the track 'Is This The Last Song I Write'.

A lovely instrument that represents once again astonishing value for money. Ray's current stage Martinez has a Fishman pickup fitted by yours truly and sounds lovely.
R2 review
My thanks to Trevor Raggatt for the review of Peacock Party and Airwaves in this month's R2. Click the PDF icon below to read.