General News
Sept 2014 News Update
Monday, September 1, 2014
City Of Derry Guitar Festival
Boy did I have a great time over the four days as a guest of the
City of Derry Guitar Festival
.
The festival has been going for many years now and is spearheaded by the charismatic guitarist
Sean Woods
.
I felt particularly honoured to be asked because this festival is essentially a classical guitar festival featuring many of the great virtuosi of the instrument from around the world. This year the line up was as follows. From Sweden,
Sound of Strings
a wonderful duo that plays their own stunning arrangements of
Abba
songs, and brilliant they were. The legendary
Carlos Bonell
, that master of classical guitar. The young and astonishing French guitarist
Thibault Cauvin
and
Manus Noble
another great young player. Ireland's
John Walsh
a leading light of Flamenco guitar, and even a beginners Ukulele course.
This was more than just a performance at a guitar festival, this was a full on three days' worth of master classes and squeezed in between that was an appearance on the local BBC Radio Station where I did an interview and played the tried and tested Maddie Goes West.
Each day started with workshops from 10-am to 12-30, break for lunch then onwards until between 4-30 and 5-pm. I arrived on the Thursday late afternoon, in readiness for an early start on Friday.
My concert was scheduled for Saturday night sharing the bill with
Carlos Bonell
, which was a bit of an honour to say the least!
For my part I would have been more than happy to have gone on first, but apparently the ticket sales for my concert were so good, in fact it was virtually a sell out, that Sean insisted I closed the evening. He told me afterwards that my concert had sold more tickets than any other concert they had put on for many a year. This guitarist was obviously chuffed.
For me the special part about the whole event was meeting so many new players and making new friends. The last time I had actually been in the company of
Carlos Bonell
was at least twenty years ago when we did a broadcast together from the Shakespeare Theatre for National Music Day, where my dear old friend
Bert Weedon
was the compere presenting a line up players that had included
Ralph McTell, Martin Taylor, Juan Martin, Steve Howe
and a few more whose names escape me.
This really was the first time I had had the chance to really get to know Carlos, and what a great guy he is. Very friendly, a great sense of humour and very self effacing. We truly bonded over those few days. The other great player that I got to know fairly well was the Flamenco virtuoso
John Walsh
, who proved that you don't have to be a Spanish gypsy to play that stuff. He is an astonishing player who plays with real fire and passion.
The Sunday morning was set aside for a talk on
Focal Dystonia
, a terrible affliction that affects many musicians. Sadly
Sean Woods
was struck down by it last year, and is rapidly coming to terms with it. He has done a great deal of research and is determined to beat this thing. He is truly a man on a mission, and we all felt for him.
He showed a clip of him playing solo in concert, and believe me the man is a great player. You noticed I said IS and not was, because I truly believe that given time he will find a way to conquer this dreadful neurological condition. I dread to think how I would feel if my gift was ripped away from me virtually overnight in such a fashion. At the end of the talk and after watching some harrowing footage of poor people afflicted in different parts of their body by this awful affliction, one but couldn't help feeling a tad drained and depressed by it. BUT, here is a man who truly wants to find a way of getting back to playing the way he was and in so doing help his fellow players. We truly wish him well.
Back to the concert... My set was only about 50 minutes duration and it's always a challenge to try and win an audience over with such a small window of opportunity, but the good news is that I did. But me being me I felt I could have played better, maybe I tried too hard! The highlight for many apparently was On Camber Sands, which again I didn't think I played that well, but who am I to argue. They liked me and that was all that mattered!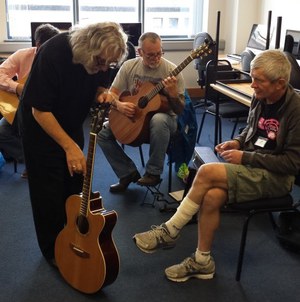 One of my tasks over the three days was to get an ensemble together to perform on the Sunday evening which was billed as a
Student Gala Concert
. There wasn't as much time as I had hoped, and what started out as an eight person ensemble eventually became a trio, because quite a few of the students were very nervous about performing and I truly understand that feeling of pressure.
I chose Maddie Goes West as the performance piece because it's a good old tried and tested piece, and as you all know it has worked a treat over the years with various ensembles. I'm delighted to report that
Peter
and
Anthony
my remaining students did a great job, with Anthony playing his
Vintage GG signature 12 string
and Peter on his rather battered old
Fender
acoustic which I managed to tweak to make it play marginally better.
I was proud of them, and they along with the audience loved it! It was also lovely to have
Kevin
, originally from Leeds, in my class playing a
mahogany GG Vintage
which he later asked me to sign.
One of the surprises of the evening was to hear a classical guitar quintet perform a piece arranged by none other than
Raymond Burley
!
Finally.
I managed to set aside an hour to look around the beautiful city of
Derry
that looked and felt a lot different from the last time I played there during the troubles. I found a cracking little junk/antique shop in the town, and as I walked through the door the chap and the lady who owned it said to me. "You're Gordon Giltrap aren't you?" I of course replied in the affirmative. They then pointed to a pile of vinyl albums! There in front of me was a 12 inch picture disc of Fear of the Dark and a Perilous Journey album. I couldn't believe that anyone knew who I was! In fact they said that there was a bit of a buzz going round the town, and that I had been spotted in the hotel lounge and on the street. God I was chuffed! I asked if they wanted me to sign the albums. They of course said "yes please". How lovely for me was this brief encounter. I almost felt famous!
Derry it was lovely Please ask me back!
Steve Marsh, Lathkill Music Publishers - The Gordon Giltrap Collection

Great news folks. As of today the notation and tablature for many of my pieces are available to order as a download from my friend Steve Marsh's website at Lathkill Music

My ambition is to get virtually everything of worth that I have ever composed in music and TAB form up and running on Steve's website, and believe me there are a lot of pieces on there. Thus far these are the titles ready and waiting for all you keen pickers who want to have a go at some of these tunes of mine. All titles on this list come in a PDF format which includes both musical notation and Tablature. Each PDF costs £4.50.

There is also a new page in the Discography section which lists the tracks - these are just a taster of things to come, this is just the tip of the iceberg so check back regularly.

A Dublin Day
A Misunderstood Man
Down The River
Em's Tune
Fast Approaching
Fiona's Smile
From The Four Winds
Heartsong
Isabella's Wedding
London
Loren
Lucifer's Cage
Melancholy Lullaby


Morbio Gorge
Mrs. Singer's Waltz
Nursery Chimes
On Camber Sands
Prelude To Pastoral
Quest For Nonsuch
Rain In The Doorway
Rainbow Kites
Ravensbourn
Revelation
Roots Part 1
Shining Morn
Spring Dance
The Ecchoing Green
The Kerry Dancers
The Lord's Seat
The Picnic
The Tyger
Under This Blue Sky
Wherever There Was Beauty
Who Knows Where Tomorrow Goes
Aston Pottery gig August 16th
This was such a nice gig and even nicer location. The sell-out show was just a joy, and thank goodness my pal
Mike Stranks
came along and was in the driving seat sound wise.
When you read Mikes very eloquent review (click the PDF at the bottom of the page) I'm sure you will get a flavour of the evening. My thanks to
Steve
at the pottery owner for putting on this concert, and to
Rory
for a great support slot.
Mine will be hopefully the first of many concerts planned for the near future, as he has some great players lined up including
Mike Dawes
, and my pal
Ray Burley
is playing there in December, so if you're in the area do go and support the dear chap cos he's great.
The Great British Beer Festival Olympia London
This was my third appearance at this great fun festival, and it was great to be sharing the stage (albeit several hours before) with
The Bad Shepherds
who took to the stage for their evening slot.
My pal
Troy
is of course a founder member along with the legendary
Ade Edmondson
, and it was great to see him again and to meet Ade who is a lovely guy. Both my sets were well received, and when you consider that I was playing to an audience of at least five hundred with a lot of background noise from the various parts of the hall I didn't do too bad at all. In a situation like that you just have to put your head down and go for it.
I truly hope they ask me back, and hopefully God willing we are all still here to do that very thing.
Roger Bucknall article
Roger Bucknall
of
Fylde Guitars
wrote a great article about yours truly on his website recently as a "Featured Artist" which you can read on the
Fylde website
in
Special Features
or via the PDF at the bottom of the page.
Tracy Sollis Leukaemia Trust

It has been my pleasure and privilege to be a patron of the Tracy Sollis Leukaemia Trust for twenty years now, and over that time the charity has raised a small fortune being put to outstanding benefits to patients afflicted with this terrible cancer.



Every year I do a fundraising concert, usually over the Easter period at The Fleece in Bretforton just outside Evesham in a medieval 500 year old barn. Each year Hilary and I look forward very much to this small but special event to celebrate the life of this remarkable young girl whose life was so tragically cut short.

On our new Charity Page you will find information about the charity and how you can help further the work of Tracy's mother Sue Sollis who has raised literally thousands from her unstinting downright hard work.

She should be on the honours list for the work she has done to help find a cure for Leukaemia and also to raise money to buy equipment for her local hospital. A truly great human being.
Travellers CD
My good friend
Paul Brett
has put together a cracking CD of both of us demonstrating his lovely
Paul Brett Viator
guitar. This CD is purely for promotional use only but it just may find its way on to our merch table at some point in the future.
I think the cover looks great don't you? There is a nice cross section of material on the CD, and I of course love all the instruments I play, and it still astonishes me how wonderful they sound and how ridiculously priced they are, representing outstanding value for money.
I have known Paul for years and it's great to finally share a CD with him.
Wolfscote
On the 18th of August Hilary and I travelled to a suburb of Leicester, to a recording studio in the house of a great guy called
Neil
. If any of you have attended many of
Tommy Emmanuel's
concerts here in the UK about two years ago I guarantee you would have seen Neil at the mixing desk getting those amazing sounds that Tommy demands from his live shows.
These days Neil devotes much of his time serving musicians in his home studio and it was there that the new band
Wolfscote
were recording their debut album.
I was asked to play on a couple of tracks by my friend the great luthier
Gary Southwell
, and
Cathy LeSurf
, she of
Fiddlers Dram
fame and many will remember their fun hit single
Day Trip to Bangor
.
I took my
Paul Brett Viator guitar
to play on a wonderful traditional song, and then they wondered if I would have a crack at playing on another track. For that piece I used that wonderful steel string that the great man made recently featured in a past news page.
All went really well, with big smiles all round.
My thanks go to band members
Gary, Cathy, James
and
Isobel
, for making us so welcome and for helping to create yet another nice memory along with of course
Neil
.
Double Vision, Holy Trinity Church, Hereford Sat 2nd August
Jackie & Dave Greenway
were in attendance and sent this report:
"We were just sitting remembering the lovely evening we had 2 weeks ago today listening to
Gordon and Raymond (Double Vision)
at Holy
Trinity church in Hereford. They were brilliant and we thought we'd send a couple of the photos we took afterwards.
The good looking lads are Gordon and Ray and the 3 youngsters are members of
'Hepzibah'
who were their supporting act :-)
We both love our music and have discovered that on many occasions it is these smaller local venues which are the most enjoyable and memorable.
I couldn't have imagined before we went how beautiful it could look when the evening sun shone down the aisle into the church and onto the artists as they played - it was one of those special images that warms the heart when you remember it."
Instrument of the month
I'm not sure what to call this in terms of size, all I can say is it's "possibly" a Baritone Ukulele. It is beautiful and is made by one of the UK's leading makers of Uke's. His name is
Pete Howlett
, and he is based in Wales.
I'm not sure about the woods used but my guess is that the back and sides are of walnut, the top is spruce, and the bridge and fingerboard is ebony. The whole thing is completed with this lovely abalone binding round the body and sound hole. The machine heads are gold plated
Grovers
.
No expense has been spared on this lovely instrument, which is on loan to me on a semi-permanent basis from my good friend
Peter Sorton
.
It needs a little set up and then I plan to start composing one or two things on it. Anything with strings and frets fascinate me, and although I have used a standard Uke on one or two recordings (I have a
Hodson Uke
) the time may just be right to explore this current instruments sonic possibilities.
I started out playing a plastic Uke at the age of 9, but have resisted the temptation to go with the current flow of Ukulele mania, this is a different instrument and one that I just might be able to bring something to.
My thanks go to Peter for the loan of this beautiful instrument, made by a leading UK maker.