General News
May 2014 News Update
Thursday, May 1, 2014
Ravens and Lullabies
Well, as I write this (21st April) we are halfway through the tour, and thus far it has been going well including the
Robin 2
concert on the night of my birthday when the other band members surprised me by presenting me with a chocolate birthday cake.
Working with the band continues to be a fun and challenging time for me, but the audiences have loved it. The
Maltby
gig was probably the best thus far all round, and our thanks go to the guys at
CRS
for promoting. I shall report back in detail when the tour is over. Once again a HUGE thanks to the
Meredith
for his superbly worded review below.
Review by Keith Meredith of Ravens and Lullabies Band, Maltby

I had been bitterly disappointed to miss the band's much praised debut performance at the Summer's End Festival in Lydney last October, and was therefore chuffed that a short – probably never to be repeated – tour has transpired.

Our evening started in explosive manner with the new rock anthem, Moneyfacturing – blowing away any cobwebs in our minds and bringing down upon the stage a small snowstorm of paper pieces that were the remnants of a previous entertainment. Continuing with other 'Ravens' pieces from the R&L album (the strong, loud, rock compositions) this was developing into a gig turned up to eleven in more ways than one.

Generally I have always preferred instrumental music – but the strong, mellifluous voice of Mr. Paul Manzi has converted me with his perfect enunciation of meaningful lyrics. Perhaps it is my advancing years but it really is a pleasure to be able to understand what is being performed without the assistance of a song sheet.

I was also impressed with the pure energy exhibited by Johanne James on the drums. His drumsticks were airborne for much of the time but not once did his twirling cause him to miss a beat.

The house was a-rocking, but after what seemed a very short time four band members left the stage and so began a short interlude featuring Gordon and Oliver performing some of the "Lullaby" tunes from the album. Among others Oliver presented LJW – written for his wife – and Gordon gave us a note perfect Fiona's Smile – the homage to mine.

I suspected that Oliver's refusal to allow Gordon to leave the stage to retune guitars hid an ulterior motive. It was Mr.Giltrap's birthday, and as the band returned to the stage Paul appeared with a special chocolate birthday cake much to Gordon's surprise.

The re-assembled band continued in a rock like manner with further excerpts from the album, interspersed with some of Mr.Wakeman's back catalogue. I particularly enjoyed the rock version of Elizabethan Pirates and the title track from Oliver's 2005 (I think) album Mother's Ruin – very high octane and high energy. The resonance of Paul Manzi's vocal chords held the whole venue in awed reverence with the lament, Is This The Last Song I Write.

Of course the band could not possibly get away without an encore – and they gave us an absolute cracker – a full band version of Heartsong that left an emotional reviewer with moist eyes. This piece surely deserves to be re-released.

The excitement regarding the Ravens & Lullabies Band is well justified – Gordon Giltrap, Oliver Wakeman, Paul Manzi, Johanne James, Steve Anderson and Nick Kendall have indeed created a supergroup from their collective talent, musicianship and professionalism. I have witnessed and taken great joy from the brilliance of their performance - and quite frankly I want more.
Continued 28th April:
Here I am sitting in the conservatory trying to make sense of the last three days with the
Ravens and Lullabies band
, wondering how I can put into words all the thoughts and emotions of working with such a great group of musicians. Two out of the 8 shows that were scheduled were cancelled but the remaining dates went well, with Bishops Cleeve being the best of all of them in terms of attendance and performance.
I'm still in wonder of it all having never have dreamed that at the age of 66 I would be on stage performing with such diverse and talented musicians. All of this of course wouldn't have happened without
Oliver's
hard work, in fact the album wouldn't have been what it was without his vision and songwriting skills and his organisational abilities, and that's a fact.
Bearing in mind that we only had in all about five hours rehearsal for a full two hour prog rock show I think we did pretty well. In an ideal world we would have liked more rehearsal time, more attention to detail, our own PA rig and sound man, along with an army of roadies and techs to help create the perfection this show deserved, but it wasn't to be. In spite of all that, I'm very proud of what has been achieved. I even had new socks for the occasion, a special gift from the
Tracy Sollis Leukaemia Trust
!
Time is really not on my side these days along with the energy required to undertake such a task, so sadly it is very doubtful it will happen again, but we shall all hopefully carry the memory of our brief time together.
Stand out moments for me was the standing ovation after the Bishops Cleeve concert and performing Heat of the Moment with the legendary
John Wetton
on stage at Mr Kyps in Poole.
After the Bishops Cleeve concert, Oliver turned to me and said words to the effect that "tonight's concert has been the most enjoyable and satisfying of my career". For me that said it all, and I felt so touched that I had become a part of that wonderful memory and experience for him, bearing in mind that this man spent four years touring the world with
Yes
, toured with
Strawbs
, been on stage with his legendary father and created many fine albums over the years.
One should never say never, so I hope with all my heart "providing it is done properly" we can repeat the experience, but I really can't make any promises at this time.
My heartfelt thanks go to my lovely wife
Hilary, Mike Stranks, Oliver's keyboard tech Mike, Steve Lamb, Jill Lamb, The CRS, Johanne's friend and drum tech Astrid, and Sue Holton
. Finally to my new friends
Johanne James, Steve Anderson, Nick Kendall, Paul Manzi, and of course Oliver Wakeman
.
Review by Roger Drew of Ravens and Lullabies Band at Mr Kyps, Poole.

Following an opening set from the singer and the keyboard player from Galahad, the "Ravens & Lullabies" band appeared and launched straight into the excellent, high tempo "Moneyfacturing", driven along by the very robust drumming of Johanne James, who along with Steve Anderson (bass) provided a very tight rhythm section. This song really set the bar for the night and what followed didn't disappoint! Nick Kendall was impressive on electric guitar, while the vocals of Paul Manzi were always more than powerful enough when the band were at full tilt, but also subtle and expressive when appropriate, such as on "Ravens will Fly Away" (his best performance of the night I think) and "Is this the last Song I Write?" Gordon and Oliver were positioned at either end of the front of the stage and little needs to be said about their musical abilities - Gordon looking very relaxed and obviously enjoying every minute, while I didn't realise how much tap dancing a keyboard maestro had to do during the course of a set :) (we were standing just in front of Oliver!)

The first part of an almost 2 hour set comprised of more "Ravens" tracks along with songs from both Gordon's and Oliver's solo albums, such as "Mother's ruin" and "Roots", all of which gelled together very well. At the end of this part of the set it was obvious what a superb band this really was, capable of performing slower and quieter numbers or operating at full power with equal ability. The other great thing was there was no sign of any egos either ; this was a true band effort with none of the pretentiousness than can sometimes be associated with prog - there was plenty of humour and banter between tracks, or even during them from Paul Manzi! I think the best quip of the night was when Oliver referred to Gordon as the "Susanna Reid" of the music business :) Nice to see Nick Kendall invited to centre stage for his solos too.



In what seemed like no time at all Gordon and Oliver were left by themselves to perform some "gentler" songs, and at one point Gordon was entirely alone while performing "Five Dollar Guitar". Then back came the full band and a return to full power in every respect, "Elizabethan Pirates" and the epic "Is this the Last Song I write?" being highlights.

Then, just as you thought things couldn't get any better the musical legend of King Crimson, UK and Asia fame. Mr John Wetton, appeared from the shadows to perform vocals on a cracking version of " Heat of the Moment". Was this the highlight of a wonderful night? Under most circumstances I would have said a resounding "yes", but I mean no disrespect to John Wetton when I say that it wasn't. For me the encore of "Heartsong" was the pinnacle of the gig, with brilliant performances from everyone involved, especially Steve Anderson. What a way to end the night! By the way did I hear a few notes from "The Carnival" slipped in, or was it just my imagination?

There is a gallery of more of Phil Werninck's great photos from this gig at Mr Kyps HERE
Review by Phil Werninck of Ravens and Lullabies Band, Mr Kyps, Poole

My Kyps in Poole was the venue for tonight's gig. A good sized hall with reasonable acoustics. The set was as the previous gigs; the Ravens & Lullabies album. Along with a few of Gordon's and Oliver's solo tracks from the respective back catalogues.

The opening track Moneyfacturing from the R&L album, provides a thundering way to start a gig. It was clear from early on, that the band had benefited from playing a number of gigs before tonight. This may be a bit geeky but little tweaks had been made to a chord here and there, fine tuning the songs to provide that little extra polish. Pauls vocals have gained most, far more integrated into the music, powering through Oliver's song Mothers Ruin with intense emotion, then the softer approach on Anyone can fly, again from the R&L CD . Gordon's Heartsong is great, but played by the band a dream, keeping very much to the essence of the recorded version.

Of course the surprise of the evening came from the appearance of one of the biggest names in rock, John Wetton of Asia, a friend of Oliver's, and a local-ish lad. With the band backing John, a great rendition of Asia's huge hit, Heat of the Moment was undertaken. Rock was truly alive and well in Poole.
Tracy Sollis Leukaemia Trust concert
My annual concert for the
Tracy Sollis Leukaemia Trust
, on Easter Sunday marked 20yrs of my involvement with fundraising with Sue Sollis for leukaemia and was indeed a special night, as unbeknown to me all sorts of nice tributes had been collated in secret and read out from the stage rendering me quite speechless. Messages from
Sir Cliff Richard, Roger Bruce, Oliver Wakeman
and
former Chief News Correspondent for BBC Midlands Garry Hudson
wishing me well and saying nice things about me.
Isn't human nature strange? I have spent my life seeking recognition for my art, but when it comes to folk praising me to the high heavens saying what a wonderful person I am, I find it incredibly hard to accept. Maybe that's because I'm far from being that person, and I always look toward other people as being the great and "special ones."
Sue Sollis
for example spends her life giving of herself to others, and my lovely wife
Hilary
who has supported me emotionally for the past 28 years. Then there's
Sue Holton
who would pretty much do anything for anyone if she could. My late mother in law
Elizabeth
was an outstanding human being who we sadly miss. The list goes on really.
Anyway, the point is it was a lovely evening all round, and as I said from the stage "I wish we weren't all there because if
Tracy
had lived none of this fund raising in her name would be necessary ". At the end of the day life goes on, and we all continue to cope best we can with grief, and in the case of Sue Sollis, we turn it into something positive and life affirming.
From ticket sales, extra donations on the night, the raffle and the fun auction, a grand total of £1,178 was raised for the trust, so a goodly result all round methinks.
My only thought at the end of the evening was that I need to do more fund raising concerts throughout the year for this wonderful charity that bears the name of a remarkable and brave young girl, who should still be with us.
Sue Sollis writes:

A huge thank you Gordon, for your stunning performance to raise funds for 'The Tracy Sollis Leukaemia Trust'. We are so honored to have you as The Trust's Patron - a position that you have shown to hold with real passion and commitment. Who would ever have dreamt so much could be achieved over the twenty years since your first performance held in Tracy's name.
My thanks go to
Sue Sollis
, all the volunteers,
Nigel at The Fleece
(who is now the chairman of the charity)
Garry Hudson
for his lovely speech,
Lorraine
his beautiful partner,
Sue
and
Mike Holton
, and my lovely wife
Hilary
, and to everyone who turned up to support the evening.
From the bottom of my heart I thank you.
Here's to next year's concert and the year after that, and the year after that, and the year after that etc etc etc.
(You can view the
Tribute Programme
by clicking on the PDF link at the bottom of this page.)
Carrie Martin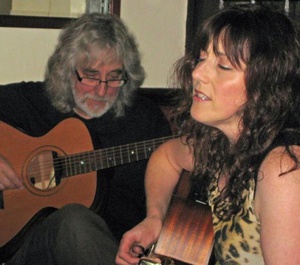 Many of you will know the name of
Carrie Martin
through various postings on Twitter and elsewhere. Carrie is currently working on a new album which will contain two of my songs, a vocal version of 'Wherever There Was Beauty' for which she has written some beautiful words and 'The Passing Of A Queen', a song I wrote way back in 1973.This latest version features the guitar of an old friend of mine, who for personal reasons wishes to remain anonymous for the time being, at least until the album is out.
I spent a cracking day with her in her local studio just outside Hull where she completed two of the aforementioned pieces with myself as producer and Andy her sound engineer, along with my old friend who managed to nail his guitar part in one take!
Carrie is a great person and deserves as much help as she can get. With her talent and engaging stage persona, she will go far. So far she has had her first album
'Luna'
reviewed in
Acoustic Magazine
, and is now an official endorsee of
Vintage guitars
, currently owning a Vintage GG 2000 and a GG Vintage Deluxe acoustic.
She is a pretty fine guitarist herself and just loves all aspect of the business. We wish her well. Her website is
www.carriemartin.co.uk
4 Parts Guitar
The final dates with my pals
John Etheridge, Clive Carroll
and
Ray Burley
collectively known as
4 Parts Guitar
, were a sheer joy and was a full on Fun Fest. Of all the concerts I perform throughout the year whether it be solo, duo or band none is more fun filled than being on the stage with these three extraordinary guys.
John
I have known for SO many years, and his playing never ceases to amaze and move me, and of course as a character he is second to none. With John you never know what he's going to say or do next on stage, and he truly is a foil for any witticisms any of us may have during the shows we do.
Then we have the wonderful
Clive Carroll
, who has to be the finest guitar player in Europe right now with his boundless energy, inventiveness and astonishing technique, and on top of that he's a real wit on stage.
Finally my dear pal
Raymond Burley
who is the quiet master of the classical guitar who has of late injected his own brand of fun and humour into the proceedings.
Out of the seven dates we did on this mini tour, for me there were three truly standout concerts, all memorable in their own way:
Huntingdon Hall, Wavenden
, and our final date at
Calstock
.
I feel truly privileged to be a part of this quartet even though in truth the whole thing was my invention. To have the chance to share a stage with three musicians I respect and to generate so much fun and spontaneity and see so many smiling faces at the end of a show just can't be beat, and for me is the lifeblood of what entertainment should truly be.
There was no way it was going to end at the end of this last run of gigs, and our lovely agent
Sue Webster
is putting together a bumper tour for next April, we also plan to record a new album to coincide with the tour.
I think Keith Meredith's succinct review really said it all, and my friend
Ray Mytten
said it was probably the best concert he had been to in years and declared that it had "everything". Praise indeed from a fellow musician.
Archives
Whenever I forget how long the struggle has been in this crazy career I have chosen, I just get this November 66 letter out from the legendary
Marty Wilde
, and it truly brings home the years that have passed, when at the age of 18 I was offered the gig with Marty in Panto would you believe!
Sadly as the letter stated it was not to be. I obviously forgot to give him my full name as I didn't use it in those days! The irony is that I was stepping into the shoes of his last guitar player, one
Justin Haywood
, who had left to join a Birmingham band called
The Moody Blues
!
Around about this time I had just signed, or was about to sign my first recording contract with the legendary
Transatlantic Records
, so things really were starting to move.
I was a photographers assistant at this time, and then shortly afterwards got a job as a bricklayers labourer....oh the glamour!
I still feel like that 18 year old kid inside, as it seems like only yesterday when that shiver of excitement ran through me at the thought of going full time as a musician. Even though I had a record deal it didn't happen overnight and it was to be another two years before that first album appeared with tracks like 'Fast Approaching' and 'Ives Horizon' making their debut! As you all know, I still play a rather more refined version of those energy charged pieces today. I guess I must have got a few things right early on albeit in a rather naive and somewhat primitive form, not the production I hasten to add, just the delivery of the material, because those two Transatlantic albums were produced by my dear friend the legendary
Bill Leader
.
Those heady 60's years were a privilege to be a part of, but of course I didn't know it at the time, in fact none of us did. They were just what they were, and rubbing shoulders and sharing the stage with the likes of
Mike
and
Sally Oldfield
,
John Martyn, John James, Wizz Jones
and many more will always hold a special place in my memory and in my heart.
By the way
Marty
has no memory whatsoever of that young kid from Blackheath who almost joined his band....bless him!
Guitar of the Month
This month's six string wonder was one that in all honesty I was reluctant to part with. It has been up for sale for quite a while now, and the reason it hasn't sold is because of its hybrid nature. It is a beautifully crafted
Steve Toon
guitar with
Variax electrics
, which isn't to everyone's taste, but it was certainly to mine when I used it for quite a few years before reverting to a conventional guitar.
This beautifully crafted guitar is a joy to play, and now that it has "returned home" I may just resurrect its unconventional sonic qualities to see if once more I can make it work for me. Failing that I may just ask Mr Toon to convert it to a normal electro acoustic, but we shall see.
You can see me on YouTube playing this at a concert in Cheltenham a few years back. If my memory serves me well maestro
Burley
was in attendance that night with the lovely
Sian
, so no pressure on me that night then! I was also sharing the bill with the brilliant
Hayley Savage
.