General News
Sept 2011 News Update
Monday, August 22, 2011
Gospel Album
For many years now I have been of the opinion that many of my tunes would make good songs (the Zombies being a prime example) or in some cases hymns. Well, this idea has finally come to fruition in the form of a Gospel album with lyrics supplied by my friend the
Reverend Martin Green
, who is himself a fine guitar player who has even built his own guitars, and the wonderful
Carol Sampson
. Carol is an outstanding singer songwriter and between her and Martin have transformed many of my pieces (ancient and modern) into modern day Gospel songs.
On the 18th of August the three of us found ourselves in delightful recording studios in the beautiful village of Bredon, where a few years back we had our
'Holiday with Gordon'
. It was on that holiday where we met some great folks, many of them becoming close friends including
Sue
and
Mike Holton
,
Geoff
and
Cath Olner
, along with our friends in America
Tim
and
Lori Blixt
.
Anyway, back to the plot. I don't want to pre-empt this project and more will be written about in detail when a suitable record company has been found. All in all this is I believe a unique concept whereby we are using existing tracks and adding vocals on top. Believe me it works BIG TIME, and when you hear tracks like
Roots
and
Heartsong
with this vocal treatment it will I guarantee surprise and hopefully delight you.
Our engineer on the day was a young guy called
Dave Draper
, a brilliant engineer full of enthusiasm for all that he does. I look forward to working with him again. Anyway here is a jolly picture of the Dream Team.
On a personal note, I believe that all music that touches us is of a spiritual nature and stands outside the confines of faith or religion. Those of you who have followed my career since the mid 70's will know that I have always embraced and have been fascinated by projects of this nature.
The Visionary
album and
The Brotherhood
being I believe prime examples. This project is an extension of the journey.
More later, and as the late great
Dave Allen
used to say...'Goodbye and may your God go with you'.
Iron Maiden
It is a little known fact that way back in 1972 when I was recording material for my
GILTRAP
Phonogram album that a young drummer named
Nicky McBrain
played on those sessions. Many years later Nicky (now known as Nicko) found fame and fortune as the drummer with the legendary
Iron Maiden
.
Another little known fact is that the Maiden released an album many years ago entitled
FEAR OF THE DARK
, post my release in 1979. They also adopted a similar lettering font to the one we chose way back in 1976 for the
Gordon Giltrap Band
and the three now classic albums that I made for the
Electric Record Company
. I forgot to mention that Nicko nearly joined the GG band in the late 70's, but obviously this didn't happen, and he went on to fame and fortune with his current band, and good for him!" So there is a tenuous link between myself and one of the greatest heavy metal bands of all time!
Nicko and I have bumped in to each other over the years and have become firm friends. Nicko is great guy and a brother
Water Rat
! OK, so now you have the background to my association with Iron Maiden.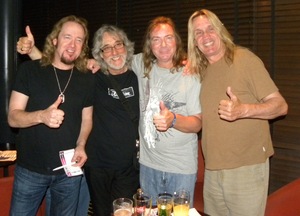 I don't pretend to be a fan of heavy metal, but without a doubt the three guitarists in that band are outstanding at what they do, which is in the main pretty serious stellar speed playing. My reasons for attending their NIA concert at the end of July was to create a nice memory for our friend
Andy Smy
who has been a long-time fan, who had already purchased a ticket for the show. I suggested that if I contacted Nicko he could supply us with good seats and back stage passes so that Andy could meet the band and get the usual T shirts and possible autographs.
Left to right:
Adrian (Guitar), GG, Dave (Guitar), Nicko
.
Nicko (bless him) made this happen, and a very enjoyable time was spent with the guys after the show in the bar at the Hyatt hotel. We were in fact there until about 3.30 am drinking wine and having a fine time.
It gave me great pleasure to meet their long standing guitarist
Dave Murray
, a lovely guy, and as it turns out a huge GG fan. Needless to say I was delighted to hear this news, and of course more than a little surprised! This brotherhood amongst guitarists can at times be a wonderful thing, apart from an idiot I met recently at a friend's party, who refused to divulge the secret of a tuning he was using, saying that it was 'a secret'! Dave and I have promised to keep in touch and possibly do something together in the future. Can you imagine GG in metal mode.....The mind boggles!
Let me tell you a little about the show... The Maiden without a doubt give their fans great value for their money and devotion. The show was one of the most energetic I have seen in years, and when you stop to think that they are all looking at 60, it is truly amazing. At first I didn't really get it, and then the penny dropped! Everyone there that night at a packed NIA, the best part of 8000 people, were there to have a great time, in fact it was a party atmosphere. There was no trouble or drunkenness, and at the end of the show the band left the stage to the track 'Always look on the bright side of life'. When I looked down, I kid you not, there was a circle of about two hundred fans with linked arms doing the Hokey Cokey... A tear almost glistened.
Clifford T Ward
I have been meaning to post these thoughts on the site for some time now.
I have recently been asked to arrange a
Clifford T Ward
track 'Up in the World' for a project. I have been a huge admirer of his work for years. He was without a doubt one of THE great songwriters... full stop!
The sad thing is that if you look on YOUTUBE, the number of views for this late great mans work is pitifully small, and yet when you look at postings for guitarists, and that includes me the figures are at times astonishingly huge!
Here was a man who wrote works with a stamp of genius about them. Songs and melodies that indeed touch the soul. When one then looks at some shredding guitarist who can play a thousand soulless notes per second they are sometimes in six figures!
I could spend hours listening to Clifford T Ward and his hauntingly beautiful creations, and reflect on his sad passing at such a young age, compared to 'flash' guitar players any day.
Don't get me wrong here; I'm delighted at the figures I get for many of my YOUTUBE postings but for music with depth and beauty they don't come much better that Clifford T. Of course one can't really compare one genre of music to the other and folks taste in music is pretty vast. Maybe in my own way I'm trying to create in tunes what CTW did with his songs. I wish I had met him!
There is a wonderful biography of the man 'Bitter Sweet' written by an old family friend
Dave Cartwright
. Dave is a well-respected singer songwriter, and he very kindly sent me a signed copy of the book. It is definitely recommended reading and can be obtained via this link.
www.cherryred.co.uk
Hicks Family - Otterton Mill
On our way down to my concert at
Otterton Mill
in August,
Hilary
and I dropped in to see our friends
Tony
,
Terri
and
Claire Hicks
. Their other daughter
Jo
was away on holiday.
In 2008 I had the great pleasure of performing a surprise birthday concert for Terri for a special birthday. We have been firm friends ever since.
Their beautiful daughter Claire has just returned from a three and a half month gap year trip to foreign parts. Claire and sister Jo are preparing for university later this year, so we wish them well. Claire is an accomplished flautist and enjoys playing guitar.
The Hicks family are lovely people and we thank them for making us so welcome in their home. This picture was taken after a hearty breakfast of croissants and coffee. No wonder we look happy!
Guitar of The Month - Guild F20
This month's featured guitar is a
1963 Guild F20 Troubadour
.
A few years ago I owned a slightly younger version of this model, and it was a very sweet sounding instrument with the most outstanding treble I have ever heard for a guitar of this size. Foolishly I sold it and later regretted it!
I was chatting with my dear old pal
Paul Policarpou
who resides in Nashville about the Guild and saying how much I regretted selling it, and how I was on the lookout for another. He (bless him) volunteered to keep an eye out for one locally or possibly on E-Bay. A few weeks later, lo and behold he found one on E-Bay, bid on it and won it!
He then shipped the guitar to the UK and it duly arrived. It sounded great but needed some attention, so I took it to the main man for this sort of work,
Roger Williams
. After removing the neck and re-setting it at the correct angle this little beauty has played a treat ever since. The lovely and most touching part of the story is that Paul refused to take any money for the instrument, and to this day I still don't know how much he bid on it. How lucky I am to have such a kind and generous friend!
Since then Paul has extended his generosity even further by sending me a beautiful and rare
Del Vecchio
resonator guitar. This instrument will eventually be restored and feature in these pages at a later date.
Back to the F20. As mentioned earlier, it is a 1963 model with a different style headstock to the later ones, and to think I was only 15 when this beautiful little guitar was made! Instruments of this vintage are pretty much handmade and this one is full of character, and weighs virtually nothing. It is a beautiful guitar for writing on or playing in front the TV. One can just wrap one's self around it in complete comfort.
As yet I haven't recorded with it but plan to do so any day now. Does it sound as good as my old one? You bet it does!
A big THANKYOU to my friend Paul for such a lovely and treasured gift.