General News
March 2011 News Update
Tuesday, March 1, 2011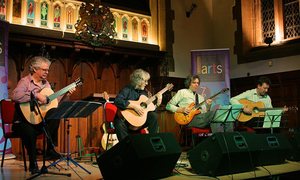 4 Parts Guitar
Well, the first few gigs have come and gone. Lichfield on Sunday the 13th was a good one, a packed Guildhall and a wonderfully enthusiastic crowd.
Apart from a few gremlins in the PA it all went off well, and more to the point it was fun! The evening saw the release of our CD entitled
4 PARTS GUITAR
... how clever I hear you cry!
Bearing in mind that the album was put together pretty much from a distance (I recorded my parts and the other guys added their bits at Clive's studio) it has turned out superbly and Clive has done a great production job.
The tracks are as follows:



Maddie Goes West (Giltrap) GG, RB, JE, CC

Monti's Casino (Etheridge) JE, CC

With The Wind (Etheridge) JE

A Renaissance Suite, parts II and III (Carroll) RB, CC

A Renaissance Suite, part IV (Carroll) RB, CC

Five Dollar Guitar (Giltrap) GG, JE

Fiona's Smile (Giltrap) GG

Places Between (Etheridge) JE, RB

A Dublin Day (Giltrap) GG, RB, JE, CC

Les Petites Clochettes (Carroll) CC

Down The River (Giltrap) GG, RB

Fantaisie op.40 (Sor) RB

The Dodo's Dream (Giltrap) GG, RB, JE, CC
At this point in time the album can only be obtained at our concerts, but I firmly believe that this CD deserves to be released on an established label that can give it the promotion it deserves! You can hear a few short samples in the discography section HERE or watch this taster video from High Barn on Feb 19th filmed by Sue Holton.



I shall be reporting more things about the tour in next months news but in the meantime I just want to say what a privilege it is to be sharing the stage with these outstandingly gifted friends of mine. If all goes well we plan to do more quartet gigs next year and a possible one off later this year!
It was lovely to see so many old friends in attendance that night including
Wally
and
Joyce
,
Geoff Olner
,
Roger Williams
,
Gillie Nichols
,
Paul Smith
and the entire
Barbara Dixon Band
! The whole essence of 4 Parts Guitar is fun. Do try to catch us on this current tour in a town near you; you won't regret it I promise you!
4 Parts Guitar - Worcester review by Keith Meredith

The Countess of Huntingdon's Hall in Worcester was built in 1773 as a Calvinistic / Methodist chapel. More recently restored as an arts and entertainment venue, many original features – such as the communion rail, pulpit, graceful curved staircases, carved eagle lecterns and many of the original pews – have been retained. This is a unique, historic and quite atmospheric venue.

Our evening of guitar culture and virtuosity commenced with each musician performing solo – with Gordon Giltrap playing "warm up man" as he put it. He played Shining Morn, Em's Tune and the evergreen Heartsong in his own inimitable way.

Ray Burley contrasted Gordon's overture with his precise classical style, presenting a piece by his favourite composer, Bach – followed by two South American pieces. (apologies Ray, I really should write down these unfamiliar composers' names.)



His more anarchic style allowed John Etheridge to get feet tapping with Mean to Me and a South African piece (sorry again, can't recall the single word title) that evoked the beauty of the Veldt.

Clive Carroll had the most difficult "follow that" position in the proceedings – but follow that he did with the beautiful Eliza's Eyes and the atmospheric and percussive Oregon. This last piece has a similar wow factor to Gordon's Dodo's Dream played on a loop station – and the audience showed their appreciation.

Part deux brought the 4 Parts together on stage and playing pieces of their own supported by one or more of the others. Special mention must go to Monti's Casino played by a grinning Clive and John: Clive's Renaissance Suite played as a duet with Ray: and the Dodo's Dream played by all 4 Parts. Ray's arrangement of this piece works wonderfully – and not a loop station in sight!

All too soon a superb event was over and it was time to return to digs. My journey home the next morning was lifted by listening to the 4 Parts CD, purchased on the night. An excellent album and – autographed by all 4 Parts – a fine souvenir of an exceptional evening.

Ray, Gordon, John and Clive are clearly good friends: enjoy each other's company and respect each other's abilities. By combining their individually copious talents they have added an extra dimension and produced music that is greater than the sum of its 4 Parts.
Private Surprise Birthday Guitar Lesson
I just wanted to say what a pleasure it was to be
Alistair's
50th birthday surprise at he and his lovely wife
Julie's
beautiful home in Tunbridge Wells on the 3rd of February. He was totally taken aback when he walked in to find me standing there holding his beautifully wrapped birthday present in the form of a stunning
Gibson Gold top Les Paul
, that Julie had bought months before and had managed to hide away from the birthday boy. Alistair sent me this beautifully worded text.
"Gordon, I just wanted to reiterate what a fantastic experience it was to spend time with you today. Julie has filled me in on all the plotting and it was incredibly generous how much thought you put into the day for me...one I will never forget! It will undoubtedly inspire me to put some serious time into becoming a better player and get some acoustic miles under my belt (not the Eko I hasten to add!) I hope you had a good journey home and thank you again for such a memorable birthday".
Thanks go to
Sue Holton
for all her special input to the surprise!
Barbara Dixon
That absolute diva of folk song
Barbara Dixon
very kindly arranged for four tickets to her show on Saturday the 12th of February at Lichfield's Garrick Theatre.
Hilary
and
I
along with
Ray
and
Sian Burley
attended the concert. I had played there twice before with
Ray Burley
and
John Etheridge
when we were
Three Parts Guitar
!
Needless to say
Barbara
was in fine form and is singing better than ever. We met briefly after the show and went for a drink with the entire band minus the great lady at their hotel.
The high point of the show apart from Barbara of course was that wonderful all round musician and pipes player
Troy Donockley
. Troy is a great guy, and although we have only met once before many years back I felt as though we were old friends. Because Barbara's show finished early on the Sunday (they were playing two nights) I suggested that if time allowed they could catch part of the second half of our show at the Guildhall which is literally a few yards for the Garrick. This they did and they all said how much they enjoyed it. Troy and I promised to keep in touch!
Acoustic Magazine Review Of The VE 2000 12 String
I'm delighted to report that my signature
JHS VINTAGE VE 2000 12 string
has garnered yet another stunning review with a
FIVE STAR
rating in all categories, this time in
Acoustic Magazine
. The reviewer was
Paul Brett
one of THE great 12 string players of all time. This signature guitar of mine really has become regarded as a critically acclaimed instrument. Once again well done to
Rob Armstrong
for designing such a special instrument. At £499 this represents outstanding value for money. I am SO proud to be associated with it!
Helen Marshall
May I remind you that there are some wonderful new additions to
Helen Marshall's
YOUTUBE
page. This lady is in my opinion one of the most gifted musicians I have ever heard. Sadly, illness is preventing her from playing the guitar as much as she would like to, which is heartbreaking really. If this lady hadn't been struck down by ill health at the young age she is, she really could have been a force to be reckoned with and I would have been proud to have her guest at some of my concerts. Such is life and incredibly unfair it is too. The good news is that she has ordered a
Rob Armstrong Baby
guitar, which may, because of its size be a little more manageable for her at this time.
Be Well Helen.x