General News
March 2010 News Update
Monday, March 1, 2010
Shining Morn Tour Flyers
Dear Friends.
As you know, I am embarking on a major theatre tour in April, May and part of June. In order to spread the word it would help tremendously if any of you out there would like to receive some flyers to be placed in prominent places in your town if indeed the tour is visiting your area!
We need the flyers to be displayed in as many prominent and
LEGAL
places as possible like your local guitar shops, libraries etc. In fact anywhere that you think the flyers would be seen. PLEASE make sure they are not displayed in illegal spots like on lampposts and suchlike. As I said before, libraries, guitar shops even at your local fish shop or pub, youth clubs, community centres etc.
If you are interested then please e-mail
David Fawcett
at david@smartmoveproductions.co.uk. Tell him your thoughts and ideas of where to display and how many flyers you think you will need.
Our esteemed Webmaster Sue Holton has already got the ball rolling with the download for the poster, ( available at the bottom of this page ) but this as you can appreciate will help the news to be more far reaching.
I thank you all most sincerely in advance for becoming a friend of Gordon Giltrap by entering into the spirit of the
SHINING MORN
tour promotion machine.
Be Well and THANKYOU.
Gordon.x
More Demon re-releases
.
Two more of the superbly packaged CD releases from Demon are now available from Amazon or HMV. They are as follows..


Remember This + Janschology The Peacock Party + Airwaves.






Both albums contain LOADS of archive pictures, along with rare and unseen memorabilia.

On Remember This there are many precious family photographs, and on Janschology some very early photographs of a young GG, plus a favourite photo of Bert Jansch and I taken a while back by that wonderful photographer the late Mark Hadley.

Airwaves contains five bonus tracks from the Band Live 81 CD.

Peacock Party is brim full of archive pics, press clippings and press releases, and also has brand new sleeve-notes written by yours truly.

There is so much to browse through with both these double albums! As always, full info in the Discography section.

Once again my thanks go to all the team at Demon especially Mr Val Jennings.
WIN a copy of the first two new CDs
For your chance to win a copy of the newly released
'TROUBADOUR' / 'LIVE AT VENTNOR GARDENS'
and
'MUSIC FOR THE SMALL SCREEN' / 'THE SOLO ALBUM
CDs visit the following website:
www.music-news.com
You just need to send them an email with your details. Closing date for entries is 21st March
Hofner Book
Many of you will remember I'm sure the Hofner book that IMP brought out onto the market way back in 1993. This book has been out of print for a number of years,and at one point it was fetching up to £75 a copy on E-Bay.
Well, it is now out there again but this time with the
Hal Leonard
publishing group, and I have to say that they have done a fantastic job. The book is pretty much the same as it was apart from the cover and new colour photographs plus an extra chapter written by Paul Day detailing Hofner yesterday and today featuring some of the super newer models. There is also a brand new Preface written by me!
We did submit some current photographs of Nev Martin my co author and I, but for some reason they have printed the originals from 16 years ago. Never mind I like to look younger!
The book can be bought from various online stores including
www.musicroom.com
at £14.99. More info in the
Discography section
Happy reading all you fellow guitar anoraks.
The Malta Experience.
This is quite a long report this month and even then I have only barely scratched the surface of events from Thursday 4th of February to Monday the 8th. Hope you enjoy the photographs!
During my 43 years in the business I can honestly say that there hasn't been too much star treatment coming my way and in all honesty I didn't think I'd feel very comfortable with it anyway. Having said all that, Hilary and I experienced the most amazing four days on the beautiful island of Malta, apart from the time spent after the Sunday concert but more of that later.
This was our second visit to the island in about eighteen months and
Tony and Veronica Bezzina
of
Masquerade Productions
always but always look after us so well, providing wonderful hotels (The Radisson in St Julians this time) and wining and dining us at every opportunity plus driving us around the island. Masquerade always do a FANTASTIC job of promoting my shows, with interviews in all the papers well ahead of the concert dates, and TV spots are very hard to get but Tony and Veronica managed to secure them also. If only promoters here in the UK did similar promotion I'm sure more folk would turn out to see concerts.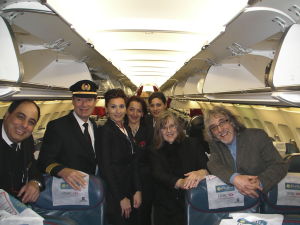 The icing on the cake for this trip was provided by
David Fenech
a flight Captain for Air Malta and a huge GG fan. This man single handedly made sure that all my guitars went onto the plane and not in the hold. (Last time Hilary and I arrived in Malta - my guitars did not! Luckily Tony sorted that problem out very quickly.) Not only that but the entire cabin crew acted as my roadies carrying my precious guitars to the back of the plane where each instrument had its own seat!
I had the pleasure of meeting David on my last trip to Malta where he attended my master class and concert. He has ordered two
Armstrong
guitars because he knows how much I love the guitars that Rob builds. David knows how to plan things and specifically arranged his shifts so he could fly us there and back and to make sure everything was 100% perfect for our trip. He also arranged for us to board the plane early so we would be settled and comfortable.........He is without doubt one of life's special people.
On my first concert night David's co pilot
Matthew
(himself a keen guitarist) came to the concert and loaned me some guitar stands as did David. On the second night I was delighted to see the flight's purser
Anton
. He had never seen me before but declared that he loved it which, of course, warms my heart no end. I think it was my funny stories that really tickled him!
David personally took one of my guitars into the cockpit with him for safe keeping. On the outward journey Hilary was invited to sit with Captain Fenech for take off and I for the landing. I have never in my life experienced the thrill of being in the cockpit of an aircraft. Oh I forgot to mention that we had club class seats at the front of the aircraft which gave us a little more leg room. It is at times like this that I say how grateful I am to my late Mum for buying me that guitar all those years ago..........bless her!
On landing David took us through to the airport lounge where our hosts Tony and Veronica were waiting for us. Not a bad start to the trip eh? David joined us for a drink later at our hotel.
The following morning I made an appearance on Malta's breakfast show with its host
Joseph
who had obviously done his homework and asked all the right questions. We were then taken back to our hotel to await the arrival of Mr Fenech who had offered to take us out for the day and show us the sights and to treat us to a wonderful lunch washed down by the best ever local Maltese wine. We were then driven to the ancient walled city of Mdina for coffee and cake and a great view of the island. As we were walking to our table I heard my name mentioned so I went back to where the folk were sitting. It turned out that they were British and on the same flight as ours. One of the ladies said she knew who I was because she saw me in the paper where my two nights at The Theatre Manoel had been advertised plus I was also mentioned in the 'What's On' section of the
Air Malta In Flight magazine
. These folk were from Ashby-de-la-Zouch just up the road from us. One of the ladies very cheekily asked if I would be willing to do a free fund raising gig for their twinning association......... I said I would if I was free as it is on our doorstep. ( now booked for 9th April )
My master class was at 5.30 at a local music shop where about 30 players of mixed ages and ability turned up. A very nice respectful lot they were too. I just wish that they had asked a few more questions which would have made life a little easier for me. People are often very shy until the last 5 minutes when time has run out! After dinner I made another appearance on TV on a late night chat show.
The following day was spent in my hotel room practising and generally preparing for my first concert. The Manoel theatre is one of the oldest and most beautiful theatres in Europe BUT....... it is VERY cold and this chilly atmosphere without a doubt affected my performance in the first half, so much so that I put on my jacket for the second half. Even the audience agreed it was cold. All that aside they were a great crowd and I seemed to go down well as they laughed at my funny asides. When in doubt try to make them laugh!
I had the profound pleasure of dedicating Down the River to
David Fenech
and his lovely wife
Dorothy
and their two beautiful daughters. After the concert I was introduced to the
Minister for Culture
- a lovely lady called
Delores Christina
who was accompanied by her husband and a number of friends. Joseph, the breakfast show host, was also in the audience with his family and they came backstage afterwards to say 'hi'. What a jolly lot we were!
The following day we were taken out to lunch with Tony and Veronica at the Hilton Hotel where we met their friends
Debbie
and husband
Manuel
. Debbie is originally from Leicestershire. It turned out that Manuel was the hotel owner! He is also a huge snooker fan and every year attends the finals in Sheffield. For all their wealth they were a very down to earth, friendly couple and Debbie shared a mutual passion for all things Art Deco and Mackintosh related. They have a daughter who is studying to be an actress in England.
Come the evening I was a little more prepared for the cold as a fan heater had been provided in the dressing room and I generally felt a lot better about my performance. Not too much 'jazz' going on........grin. The acoustics in the theatre are fabulous and Alec the sound and lighting guy did a great job.
OK, so far so good!
We had a very pleasant after concert meal with Tony, Veronica, David and Dorothy. We said our goodbyes to Tony and Veronica in Valletta and David and Dorothy drove us back to our hotel. At the hotel's windy entrance (it is right by the ocean) we were saying our goodbyes when Hilary tripped and badly bruised her lower back and head. I didn't see it happen as I was saying farewell to Dorothy. I looked round and there was my beloved Hilary lying on her back in pain. You can imagine how we all felt at that split second. We picked her up and carried her shaking into the hotel reception where the staff were fantastic. Fortunately there was no bleeding from her head but she was shaking like a leaf.
A pack of ice was placed at her head and a cup of sweet tea sort of helped. The hotel doctor was called and it was decided that we should take her to A & E at the local hospital. Fortunately we were seen fairly quickly. After about two hours Hilary was beginning to feel marginally better and it didn't appear as if any bones were broken, so we decided to get her back to the hotel. By this time it was about 3-30 in the morning. Hilary didn't get much sleep but at least she felt a bit better. On our return to the UK Hilary got checked out by our local GP, and apart from being bruised and sore I'm relieved to say that she is fine...THANK GOD. Such a rotten end to such a memorable trip.
On our return flight we got the same star treatment from David who we can't thank enough for his kindness and care on this trip and a special thanks to the lovely Dorothy for being there with us at the hospital after that nasty fall. And before you say anything...NO Hilary hadn't been drinking; in fact everyone who knows Hilary will testify to the fact that she hates alcohol and is tee-total.
Our thanks once again go to
Andy Reiss
and
David Fawcett
for arranging the concert via
Smart Move Productions
and
Tony
and
Veronica
at
Masquerade Malta
. Mention should also be made of
Mark
and his two students who did a nice number in the second half each night prior to my performance. It was Mark's shop where the master class was held.
It goes without saying that we hope to return.
The following comments were among those received after the Malta shows:

My name is Mark Bryan, I was born in Swindon and have lived in Malta for four years but unfortunately missed Gordons earlier concerts here. I am pleased to say that this has now been corrected as I was at the Teatru Manoel last night. I emailed your website last year asking if Gordon could come back here again soon and I was quite proud of the fact that he posted my comments on his website, I used the name ''Markismus''.

I thoroughly enjoyed Gordons show. The experience was so much better than listening to a WAV file! The PA system was perfect; helped I'm sure by the acoustics of the location but sadly not the temperature of the auditorium. He must have been uncomfortable and distracted, but despite this he was able to make his fingers work as well as ever, even with a restricted blood supply? He must be a God, just like Rick Wakeman, Pete Townsend and Jimmy Page... there's no other answer!

If you read this Gordon...You have made the world a better place to be...you are inspirational...thanks for being entertaining and as true to yourself as it is possible to be!

... others aspire to this!

Mark ;-)

Hi Gordon
I just wanting to say thank you for your performance last night at the Manoel Theatre in Malta. Great show! I was horrified to see some empty seats....you could have done with even better publicity as I'm sure there are many music lovers in Malta who would have loved to attend.. Thanks again and hope to see you back here soon
Regards

Yasmin de Giorgio