General News
February 2010 News Update
Monday, February 1, 2010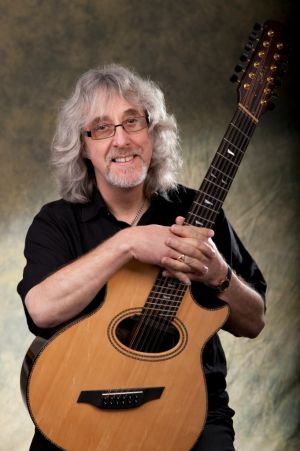 Album Re-releases.
The first two double album re-releases from
Demon
records are now complete and will be available from today -1st Feb onwards. Let me give you a brief outline of their content.
The first of the two is
Troubadour
coupled with a previously unreleased high definition DVD of a concert I did on the Isle of White in May 2008 at the
Winter Gardens in Ventnor
. The accompanying booklet contains never before seen photos from the Troubadour artwork sessions that
Sue Martin
took along with photographs taken in the studio with
Del Newman
and a nice pic of
Sir Cliff and I
in the garden at
Roger Bruce's
house at the end of the
Heathcliff
run plus many more.
The DVD contains pretty much all the material I have been playing live over the last couple of years including The Dodo's Dream with a bonus interview with
Rodney Hearth
, the guy who filmed the concert.
The second of these twin releases are
Music for the Small Screen
and my
Solo
album. Once again these superbly packaged albums contain never before seen photos from my personal collection.
I can't begin to tell you how pleased I am to be associated with a first class label such as
Demon
who have gone to great lengths to make sure these albums are packaged to the highest possible standard. My thanks go
Val Jennings
and all at Demon for their hard work and care with these precious (to me ) albums.
The cheapest place to buy the new items from currently is HMV as follows:(although this may change)




Troubadour CD / Ventnor DVD

Music For The Small Screen / Solo

they are also available from Amazon:

Troubadour CD / Ventnor DVD

Music For The Small Screen / Solo
There will be many more to follow throughout 2010 including The Peacock Party, Airwaves, Remember This, Janschology, Under This Blue Sky, Drifter, On a Summers Night, Drifter (live), Elegy, A Midnight Clear.
I'm certain that many of the archive pics contained therein will raise a smile!
Full information, short MP3 samples and track listings can be found in the discography section:
Music for the Small Screen / Solo Album
, and
Troubadour CD / Ventnor DVD
Go to
www.demonmusicgroup.co.uk
for more information on the record company.
Shining Morn Tour Dates Announced
Selected dates in April, May and June of this year will form part of a major theatre tour that I shall embark on throughout the UK. It will be under the banner of
'The Shining Morn'
tour to promote my brand new double album on
Floating World Records
. The tours promoters are my friends
David
and
Andy
from
Beyond the Barricade
, whose company is called
Smart Move Productions
.
This will be the first time in years that I have done a tour of this nature. The presentation will be a little different, with the inclusion of back projection and a well thought out lighting plot along with my own personal sound man to guarantee the best sound possible! I shall of course be featuring new material from the album along with all your old favourites, plus at least eight guitars on stage with me!
Even though this is a theatre tour I still want to maintain that element of fun and intimacy which as you know has become a hallmark of my concerts over the years. I sincerely hope you can make one or even SOME of these dates as it will be a joy to see you there!
Have a look at the dates below to see if there is a concert near you. You can view a copy of the
Shining Morn Tour
poster by clicking the icon at the bottom of the page. Right click, "Save target as" will download a copy for you to display in your window or perhaps a local notice board.
29th April, Theatre Royal, Wakefield
30th April, Lighthouse, Poole
1st May, Trinity, Tunbridge Wells
4th May, The Pavilion, Worthing
5th May, Camberley Theatre, Camberley
6th May, Prince of Wales Theatre, Cannock
9th May, The Capitol, Horsham
12th May, The Civic Theatre, Doncaster
13th May, The Castle Theatre, Wellingborough
26th May, St David's Hall, Cardiff
27th May, Theatr Brycheiniog, Brecon
4th June, Malvern Theatre, Malvern
13th June, City Hall, Salisbury
24th June Alban Arena
Classic Rock Society Awards.
On the 16th of this month
Hilary
, myself along with
Cath and Geoff Olner
attended the awards night for the
Classic Rock Society
held in Rotherham at the Montgomery Hall. I was recently asked to be a patron of the Society and felt it a privilege to be asked to present these stunningly beautiful glass awards to obviously very deserving artists.
The evening kicked off with a good set from singer
Anne Marie Helder
followed by the presentations at 7-15. Me being me I didn't think it enough just to stand there, open an envelope and say " the winner is" so I sort of went into funny story mode and it appeared to raise a few laughs.
Final recipients were..



Best Male Vocalist - Peter Nicholls
Best Female Vocalist - Christina Booth
Best Keyboard Player - Clive Nolan
Best Bass Player - John Jowitt
Best Drummer - Scott Higham
Best Guitarist - Nick Barrett
Best Album - Frequency by IQ
Best Track - Questioning Eyes by Breathing Space
Best CRS Gig - Pendragon
Best Band - IQ
Best New Band - DeeExpus
Roots Musician of The Year - Troy Donockley



The Top 10 in each category will be published in the next magazine.
The final award of the evening was
The Directors Award
which went to
Martin Hudson
for his outstanding contribution to the promotion of the best in progressive rock and classic rock through 18 years of service at the CRS, racking up a total of 173 magazines in the process! Martin was responsible for the Society being formed way back in 1991. This for me was such a deserving award. Martin has now passed on the baton to the new guard of
Miles Barnaby
and
Stephen Lamb
.
So that was it folks, and whatever your thoughts and opinions on awards, this for me was such a pleasant evening. The new guys still have a bit to learn about presentation and organising a few minor details but they like all of us live and learn. All the bands and artists were such a well deserving and friendly bunch and I'm sure I will get a call at some point in the future to repeat the experience. I welcome it. You can of course read all about it in the next edition of the
CRS magazine
, along with more grinning pics of yours truly with the awards delighted recipients!
Purcell Rooms
In all honesty I was expecting the evening to have been a disaster! Tickets sales were slow, the weather was seriously against us, many people including our
web mistress Sue
and husband
Mike
along with friends
Jacqui and Larry
and
Mike Stranks
had to cancel because of the snow.
Imagine my surprise and delight that by show time we had filled 284 seats!
The evening kicked off with a superb set from
Virginia
. The great lady had travelled from New York just for this one show, so a lot was depending on a reasonable turnout. She brought with her on this trip her irreplaceable
Hauser
guitar built in the 1930's and valued at a quarter of a million dollars. Indeed she made it sound like a million dollars with her passionate and virtuoso playing. At the end of her performance the audience gave her a standing ovation. I was almost in tears witnessing this. It all came good in the end.
My thanks go to
Martin Snodin
for promoting the concert.
Paul Policarpou
and
Mollye Brown, Beverly
from the
New York Guitar salon
.
Hilary
(of course)
Paul Fowles
for attending and reviewing the concert for
Classical Guitar
magazine and to you dear audience for attending an evening that was for me very memorable.
There are plans afoot for Mr Snodin to promote a
Four Parts Guitar
concert this year at this outstanding London venue.
New Guitar.
After many, many years I have purchased a new
Rob Armstrong
acoustic. Because I have a few of Rob's guitars in my collection I felt I just couldn't allow myself another BUT circumstances dictated otherwise and so I went for it! It is an instrument that I have coveted for some time now. Made in 2007 it is based on the same body shape as the Polymer guitar of
Secret Valentine
fame. The guitar is a short scale model with a cedar top and the back and sides are sprayed RED. Don't ask why cos it's too complicated BUT it looks fantastic. Needless to say it is a joy to own along side all my other lovely guitars...FYLDE.... WILLIAMS....TOON. It is an inspiration to play.
Bill Leader's 80th birthday party.
Ordinarily I wouldn't be mentioning a birthday party in the newsletter but this one was a bit special for a very special human being.
His name is
Bill Leader
, and way back in 1966 he discovered a young guitarist/singer/songwriter called
Gordon Giltrap
. It was through Bill that I signed to
Transatlantic Records
which way back then was THE label to be with. Bill was a VERY important person in the fast growing folk and blues movement in the UK in the early sixties. For example Bill produced the very first
Bert Jansch
album! As if that wasn't enough he went on to produce
John Renbourn's
first album and many more artists who are today household names!
The party really took the form of a concert and was held at The Band on the Wall in Manchester on December the 29th. The last time I had played there was in the late eighties with the demon fiddler
Rick Sanders
. Way back then the place was a little shabby to say the least, but over the past few years the place has been given a facelift and is now a very classy venue with decent dressing rooms and a separate bar /restaurant area.
Many famous names were planning to turn up for Bill. People like Mike Harding, Archie Fisher, Maartin Alcock and John Renbourn. Sadly due to prior commitments, bad weather and the dreaded flu these folks couldn't make it.
Personally there should have been many people attending to pay tribute and celebrate the great man's life, so it was pretty much myself and a few fine young muso's and friends from Bill's immediate past who made the effort. I guess I was really the only 'name' musician who was there, and it gave me great pleasure to do a little 25 minute set for this very special person. The whole evening was superbly hosted by
Trevor Hyett
who apparently I met years ago when he was a TV presenter for a show called Afternoon Plus. Trevor is himself a fine player with a great voice. Funnily enough it was through Val Doonican's wife Lynne seeing me on the programme that prompted her to tell Val that he should have me on his show. Funny old life eh ?
Another person of note at the party was the legendary producer
Joe Boyd.
I say legendary because Joe like Bill produced a clutch of outstanding musicians way back then, mainly
Nick Drake
and
Fairport Convention
as well as
John Martyn
and
Richard Thompson
. When I spoke to Joe briefly after my set, he said that he owed so much to Bill from those early days. He then said he sadly had to leave because he was up early the following morning to catch a train to London then a flight to the States. I was very touched by the fact that someone of Joe's stature and obviously busy life was able to find the time to share in Bill's special evening.
Also in attendance was the writer
Karl Dallas
, who for many years was the main scribe when it came to all things of an acoustic / folk nature. Karl bless him never wrote a bad word about me in those early days and for that I am sincerely grateful.
Finally mention should be made of a great couple we met.
Brian and Sal Shuel
. Brian was the man who photographed the main bulk of the artists who recorded for
Transatlantic Records
including of course yours truly! Sal did the designing and Brian the photos and between them created in my opinion some of the most iconic album covers of the period including of course that first release by my dear friend
Bert Jansch
.
They run a superb photo library where you can register and look at some VERY early GG pics and many more artists and images at
www.collectionspicturelibrary.co.uk
It is truly strange viewing this 19 year old kid with his then fiancee Susan in Greenwich Park. I asked Brian what memories he had of me from those days. His reply was that I definitely knew what I wanted and that I was very ambitious. Nothing much has changed there then! Thanks to Brian for use of these images.
Here's to
Bill Leader
and for many more Happy Returns.
Be Well friends.
Gordon
.