Moderator: GORDON
http://www.ebay.com/itm/Tokai-vintage-8 ... 27dd493d56
My Tokai was almost identical to this one, other than the fact that mine was a "leftie"
We all have fears and can feel fragile - that's what makes us human
---
Posts: 227
Joined: Mon Mar 26, 2007 8:42 pm
Location: Trowbridge, Wiltshire
Love Strats. With the right set-up they play themselves. Here is my list cut down as much as possible.
Jimi Hendrix, Jeff Beck, Eric Clapton, Mark Knopfler, Hank Marvin, Adrian Gurvitz (now Curtis) of Gunn, Yngwe Malmsteen, Ritchie Blackmore, Dave Gilmour, Robbie Robertson, Eddie Van Halen (early) and Garry Hoey.
Lives touch and paths cross for a reason - be grateful for these meetings and grow as a person
---
I'm playing a Strat these days. I played a Fender Strat Hot Rod in the early 90's, during my rock phase.
I fancied an electric to noodle on, so I bought a Rory Gallagher Relic Strat and replaced the pickups with Bare Knuckle 'Irish Tour' pickups. It's got Fender on the headstock, but I don't think it's ever been near a Fender factory.
---
Posts: 222
Joined: Thu Apr 26, 2007 8:28 pm
I couldn't let this thread pass without posting a picture of the latest project;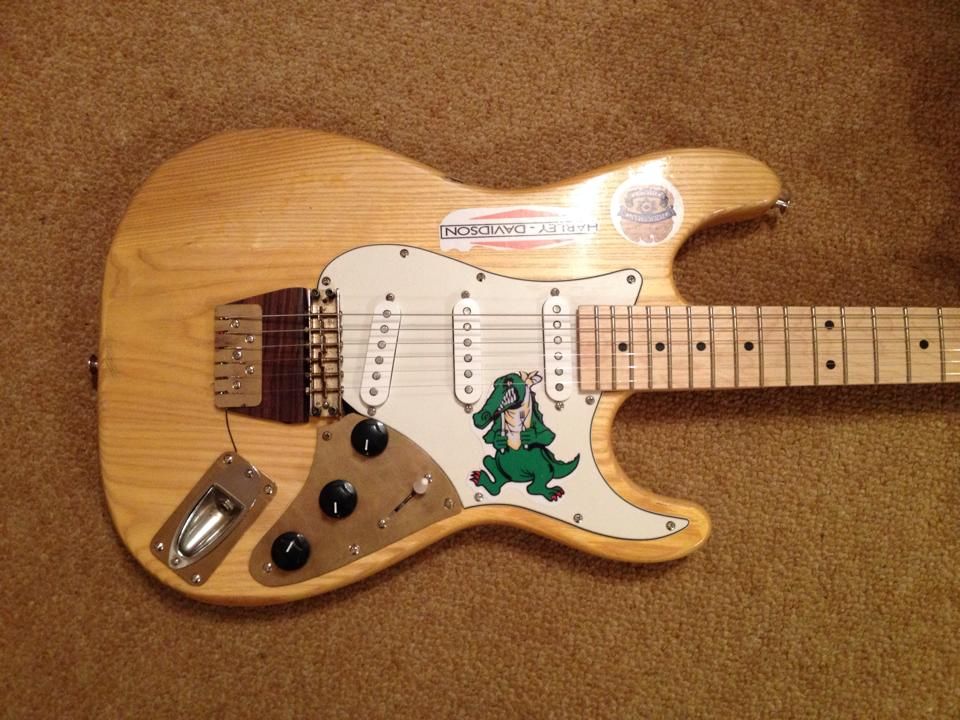 Garcia tribute Strat!
---
Love it love it love it.

Well done Russ.

G.
---
I have had a couple of Fender Strat's over the years but preferred guitars with fatter necks. I spent so many years of my youth playing a 12 string acoustic which had a large neck....playing thin necked electrics became a chore.
My all time favourite Strat was George Harrison's Sonic Blue model that he painted in psychedelic colours and appeared in The Beatles "Magical Mystery Tour" film.
Years back, I decided to replicate the guitar and painted a Squier Strat I had laying around.
A pick-up maker friend of mine wound me a 1961 spec set of pick-ups (with original bobbins and magnets) which transformed the tone of the guitar. I have since set it up for slide playing. I don't use it much but it does look nice!
---
---
Return to "Guitar Anoraks Forum"
Who is online
Users browsing this forum: No registered users and 5 guests