Wednesday, October 14, 2020
8.00pm
Pentyrch Cardiff
Gordon Giltrap workshop POSTPONED DUE TO Covid 19 precautions
Capel Horeb, Heol Y Pentre Pentyrch Cardiff CF15 9QD
phone: 029 2089 0862
Price: £18.50
Purchase tickets online click here to purchase tickets
website: acapela.co.uk/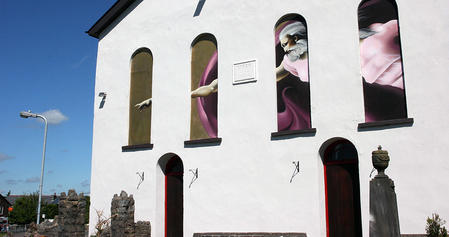 NEW DATE: Hopefully 14th April 2021- please check with venue nearer the time for any changes to arrangements, times/prices etc


Acapela Studios is a unique music venue and recording studio based in Pentyrch, Cardiff and is set in a converted Welsh chapel. It's real timber flooring and high ceiling gives our musicians and artists the space to perform naturally. Acapela offers a beautiful and peaceful environment to inspire creative minds. Originally constructed in 1835, the building houses a traditional concert hall featuring the original pews, wrap around gallery and pulpit!
Audiences experience an intimate performance in a beautiful setting, relaxing with refreshments from the licensed bar and pizzas from our wood burning oven. See the very best musicians up close and personal in the very best small music venue in Wales.


Acapela Studio provides pre-concert dining between 6.00pm and 7.45pm from our wood burning pizza oven. Limited tables are available to book for pizzas and can be booked on-line.

https://www.acapela.co.uk/events/gordon-giltrap-3/

To book a table online, select the date of your event, number of diners and time you require table. The times shown are the only vacancies left. Please complete your email and phone number as this is required to ensure your table is allocated. You will receive confirmation of your booking by email and text.
PLEASE NOTE THE VENUE RELIES ON THE INCOME FROM DINING TO ENSURE WE CAN BOOK ALL THE GREAT ACTS PERFORMING.
All seating at tables must purchase a pizza - so please do not book a table if not eating.
Please ensure that you arrive 10 minutes before the time slot allocated to order your pizzas prior to your booking time.
Tables not seated within 15 minutes of the allocated time may be lost and allocated to other audience members wishing to order pizzas.
If you wish to book a table for 8 or more please email info@acapela.co.uk
Please note that all of our pizzas are made fresh to order and cooked in an authentic wood-fired oven. It may take up to 45 minutes to be served during busy periods.

Non dining tickets £18.50 + £2 fee https://www.acapela.co.uk/events/gordon-giltrap-3/
Please check availability of tickets and confirm date / start times with the organiser before setting out, as sometimes changes are unavoidable - thank you.
export this event to my calendar
Tweet