Tuesday, May 8, 2007
7.30pm
Scole, Norfolk
A Four Churches Festival concert
Norwich Rd Scole, Norfolk IP21 4DT
phone: 01379 668875 / 07810 032025
Price: £12.50
website: www.allsaintsthorpeabbotts.com/The4ChurchesFestival.html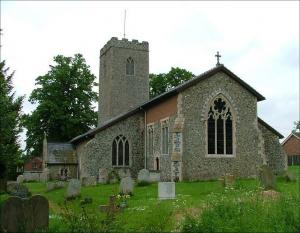 Rock star Rick Wakeman and south Norfolk vicar Rev Trevor Riess have teamed up again to arrange a festival of music, acting and comedy.

The second Four Churches Festival will take place between 7th and 12th May, with performances held at the four ancient village churches of Scole, Brockdish, Thorpe Abbots and Billingford. plus exhibitions and workshops at Billingford and Thorpe Abbots.

Over the course of the week long Festival, the star-studded line-up includes performances by comedian Don Maclean, Ian Lavender, Richard Digance, Gordon Giltrap, Paul Field, Nicholas Parsons, juggler Steve Rawlings and magician John Lenahan who was the first person in 85 years to be expelled from the Magic Circle !

Rick Wakeman said: Im delighted to be part of the 4 Churches Festival again and am really enjoying working with Trevor and the rest of organising team. Performing in these ancient churches is a real pleasure and the audience benefits from the excellent acoustics and the unique atmosphere that these lovely buildings create." As well as the main performers, Rick Wakeman will perform a short set every night.

Gordon is thrilled to be performing as part of the Festival on 8th May and is looking forward to once again playing some "duets" with Rick Wakeman, who last joined him on stage at Birmingham's Symphony Hall in 2005.

Gordon and Rick's performance will be recorded.

Added 2nd May - taken from www.edp24.co.uk
Rick Wakeman: Grumpy and happy! written by TOM SMITHARD

Rick Wakeman is a busy man. Later this month his band are playing their first small-scale gig in years, at Norwich's Waterfront, then headlining a festival in Norway and, later this summer, another in Canada.

Following massive success in TV show Grumpy Old Men, the 57-year-old is regularly booked to moan at corporate events - and is currently writing Rick Wakeman: Grumpy Old Rockstar which will lift the lid on countless anecdotes from his long career.

But before all of that there is the little matter of staging his second 4 Churches Festival, in which a series of his celebrity friends will be brought into Scole, Brockdish, Billingford and Thorpe Abbotts to raise money for the church buildings.

Running from May 7 to 11 it features big names such as Nicholas Parsons and his Just a Minute crew; Dad's Army and Eastenders star Ian Lavender; musicians Don Maclean, Paul Field and Gordon Giltrap; and magicians John Lenahan and Steve Rawlings.

Originally, last year was going to be a one-off, but we need to raise money for these buildings every year and running this festival is a lot of fun, Rick said.

Church buildings are not just for worship, they pin together whole communities. So many villages have lost their pubs, shops and, scandalously, now their post offices. Churches are some of the only community buildings left and need to be preserved.

All of the line-up are, once again, mates of the Norfolk-based music experimentalist, who said he pulls every flanker under the sun to help get the star names to the villages on the Norfolk Suffolk border - returning the favour for events they run.

The people who I got last year were treated so well by the audiences and had such a good time that it was easy for me then, speaking to people I wanted this year, to tell them to give last year's guests a ring, he said.

Gordon is one hell of a good guitar player and Don and Paul are coming back by popular demand. I think Steve and John will be the night people who don't go will wish they had. They're unique. I've seen Steve countless times and would still pay to see him again.

Just a Minute sold out the day tickets were released. It will be a cracking night, as will Ian Lavender, who's such an interesting character and has some great stories to tell.

I've tried to pick nights and people who you'd get what you expect from them but also a lot more. All will be fun nights, all will be a mixture of music and proper laughter, not just polite laughter.

Since moving to Norfolk a few years ago with the idea of slowing down, Rick has gone from one challenge to another.

I thought coming here I'd quieten down but I was wrong, he said. The great thing about getting older is you get to diversify. Roundabout the late 40s people gave up pigeonholing me and let me do what I want. If 20 years ago I said I wanted to do a television show, radio show and classical music people would have laughed. Now I'm even organising my own festival.

Every day is different these days, he said.

Since I stopped doing the long touring, less than 20pc of what I do now is music-related. But I'm being kept really busy - and I'm loving it!


Tickets for Gordon's concert at St Andrews Church Scole; 12.50, 10, 7.50

Tickets available from Scole Stores, or tel 01379 668875 / 07810 032025

or email fourchurches@btinternet.com ( changed email address )



Other Festival Events More details here


Don Maclean and Paul Field Songs and laughter - Monday 7th May Scole 7.30pm

Gordon Giltrap Guitarman - Tuesday 8th May Scole 7.30 pm

John Lenahan and Steve Rawlings -Juggling extraordinaire and magic subversive - Wednesday 9th May Scole 7.30pm

Just a Minute with Nicholas Parsons and friends -Thursday 10th May Brockdish 7.30pm

An Evening with Ian Lavender - Friday 11th May Brockdish 7.30pm

Rick Wakeman and friends - Saturday 12th May Brockdish At 6.00 and (8.15 pm sold out)
Absolutely no comment(but Rick hopes comedian / singer Richard Digance will join him if he can escape from Countdown) AND BOOK NOW FOR THE AFTER EVENT PARTY ABOUT 10PM SATURDAY - 4 GLASS OF WINE / FOOD / MEET THE STARS

Festival Tickets 12.50, 10, 7.50 at Scole; 12.50, 10, 5 (restricted view) at Brockdish
Children special price Wednesday for Lenahan & Rawlings 5 for 12.50/ 10 seats


Please check availability of tickets and confirm date / start times with the organiser before setting out, as sometimes changes are unavoidable - thank you.




export this event to my calendar
Tweet