Welcome to Gordon Giltrap's Website
Ritchie Blackmore from Deep Purple and Blackmore's Night says:


"Anyone who asks me knows, that I think that Gordon Giltrap is one of the best acoustic guitar players in the world.

He gave me lots of hints on how to approach the acoustic guitar as opposed to the electric guitar.

He was always way ahead of his time. His concerts and playing are breathtaking. He's also very witty, and I love the fact that he has not cut his hair!"


HEADLINES


The Work of Angels A Charity Single to raise money for the NHS
Mirror Noir Records is proud to be releasing "The Work of Angels" by Gordon Giltrap and Paul Ward on April 2nd 2020. This single will raise money for The University Hospitals Birmingham Charity with 100% of the proceeds reaching the charity itself.
Please support our wonderful NHS during this difficult time.
https://mirrornoir.com/index.html
Gordon writes:

Hello everyone,

In November 2019 I spent seven days in hospital with pneumonia. I have had a few spells in hospital and each time I have been in awe of the work that doctors and nurses do. Whilst there the thing that struck me was that I was truly witnessing the work of angels.

On my return home I felt compelled to express those sentiments in music. The end result was THE WORK OF ANGELS a joint composition between myself and Paul Ward, in dedication to these remarkable men and woman.

During this troubled time their work is magnified many times over, and you can support these remarkable people and the NHS by purchasing a download of the piece or better still by hitting the DONATE button in gratitude for all they do.

A video message from Gordon can be viewed HERE

Be assured that EVERY penny goes straight to the hospital charity. I have been advised that the most favourable places to download are from Amazon and iTunes however by doing this via the Hospital website you will also have an option to add an extra voluntary donation which is not available if you go straight to the streaming services.

Please make a donation and download from HERE





My dear friends Mark and Jane Day have also produced Tshirts to support the single release fund raising, for more information on them please click HERE

Thanking you all in advance for your generosity.

Be Safe. Be Well.

Gordon. x
Gordon awarded the MBE

To all my dear friends here and abroad.
I feel very honoured to be the recipient of an MBE in 2019.
The response has been very heartfelt and touching. All sincere thanks must go to our dear friend Carrie Martin for working tirelessly (and of course unbeknown to me) to help make this happen.
Nothing can alter the heartbreak us as a family has had to endure this year, but this honour has helped to heal the wounds and enable us to move forward in a positive way for the coming year.
Love and thanks to you all and a happy New Year.

Woman CD New release 31st Jan 2020


"Throughout history women have played a major part in shaping civilisation as we know it, from Joan of Arc to Boudicca, Florence Nightingale to Emily Pankhurst, and those brave women who gave their lives willingly in both world wars, fighting for peace and democracy.

During my life it has been a privilege to have met some extraordinary women who are featured on this compilation. The most significant and important one to me is my wife Hilary, whose image appears on this CD cover.



Eight of the tunes on this album were commissioned by husbands as tokens of love for their wives. Simply Margaret was commissioned by Hilary's cousin. The remaining five were pieces I felt moved to write for personal reasons. Sadly, two of the women I wrote melodies for are no longer with us." - Gordon Giltrap

Full details HERE


Biography


I'm delighted to report that my biography Perilous Journey written by Steve Pilkington over a three year period is now finished and can be ordered by following THIS LINK

My dear friend Del Newman has kindly written the Foreword. More info HERE

To coincide with the book publication Gordon has with his producer and collaborator Paul Ward remixed and recorded songs including the original hit single "Heartsong" as well as the all-star version of "Heartsong" recorded in 1993 with BRIAN MAY, MIDGE URE, STEVE HOWE and RICK WAKEMAN all of which were released as a four track single on 28th September 2018. Details HERE



Orchestral Giltrap

The Eye of the Wind Rhapsody.
Many years ago it was my privilege to have been commissioned to write a piece for orchestra. The end result was THE EYE OF THE WIND RHAPSODY. The piece has been performed a couple of times since its premiere in 1981 at The Guildhall in London by The London Philharmonic Orchestra with the late great Vernon (Todd) Handley conducting. Since then by The Birmingham Schools Orchestra conducted by Bob Vivien and latterly at Birmingham's Symphony Hall by the Sheffield Philharmonic, John Pearson conducting.


I'm gratified to say that all the parts are being lovingly copied in digital format by our friend Adam Parrish and will available shortly to download FREE OF CHARGE for any orchestras wishing to perform this piece.
Heartsong for Brass Band.
A few years back I had contact with the legendary Brighouse and Rastrick Brass Band. One of their members Mr Leigh Baker expressed an interest in arranging Heartsong for Brass band. This is now available to download FREE OF CHARGE for any interested parties to perform.
I am making no charge for the access to the scores for both pieces. It is just my wish that this music be out there for people to perform and enjoy.
If you represent an orchestra or band that would be potentially interested in performing either of these pieces just drop a quick email introducing yourself to Sue Holton at ggiltrap@gmail.com and she will arrange for you to download the scores.


Sharing Days - 2020 Dates to be arranged
From 2017 I've been holding what I call "Sharing Days" and I'm delighted to welcome old friends and new to fun and informative days sharing my thoughts with you. Some are held at the charming Castle Park Arts Centre, Frodsham, Cheshire, others near my home town of Sutton Coldfield.
Tab for the chosen piece will be emailed to you when you sign up.
The plan is to accommodate between 10 and 12 players who want to spend the day sharing all aspects of my music, my technique, composition, my advice on guitars, open tunings, nail care (yes even nail care) equipment, in fact as much information as I'm able to impart on the day. This will be aimed at mainly acoustic players but all players, electric or acoustic are welcome.
At times there may be special guests or other people to assist in any way they can. I really look forward to them as they are a fun INFORMAL gathering of players who like me love this instrument of ours.
The fee is £100 for the day.
Please get in touch for more details about Sharing Days and Weekends or go on the mailing list for future events.

E-mail Sue Holton for more information.



'HEARTSONGS' Charity Cd out now

It has been my privilege to record and release many albums over the past half-decade. All have been important to me, but none so quite as much as this release. Not just for musical reasons but for powerful and heartfelt life affirming reasons. This is a way of saying thank you to the surgeons and nursing team at the Queen Elizabeth Hospital Birmingham where I recently underwent two lots of major surgery.



HEARTSONGS was created and developed over several months as a fund raising album for the Birmingham Hospitals charity.
Although the album is essentially a re-release of 'Shining Morn' it has extra tracks that weren't on there before.
More details on the background to this release can be found HERE along with the track listing.
Sadly during the course of creating the album my beloved son Jamie passed away, and the album acts as a fitting tribute to his memory.
As I say in the sleeve notes that this album is my way of saying 'THANKYOU' and in my own small way trying to give something back. That's why for me this whole project is quite emotionally and spiritually charged and it truly means so much to me.
Please do feel moved to buy a copy. For £10 including UK postage and packing this truly does represent I think good value for money. PLEASE PURCHASE HERE
GORDON GILTRAP & PAUL WARD "The Last of England" now available on vinyl !

A vinyl limited edition release of this wonderful collection of tunes from the legendary guitar player, Gordon Giltrap. Gordon collaborated with Paul Ward, keyboard player and music producer to create this album partly inspired by the artwork from the pre-Raphaelite era. The title track also comes from the famous Ford Maddox Brown painting used on the cover. Gordon embarked on this project to celebrate his return to health after a major operation in 2016 and considers it as perhaps his best album yet. Keyboard player Paul's wealth of experience includes working with David Jason and Martin Kemp amongst others.

The album is inspired by all the music Gordon has loved during his 40 year career. It is a truly heart-warming LP.

To celebrate its release, Psychotron Records hosted a Gordon Giltrap / Paul Ward concert at The Guildhall, Lichfield.


Previously released on CD (Angel Air) in January 2017, the album has received great reviews already. Losing a couple of tracks to translate onto vinyl was a difficult decision, but it is more than compensated for hearing the sound on vinyl pressing and owning a beautiful LP which shows off the painting that inspired some of the music in a semi laminated luxury gatefold sleeve.

Comes on gorgeous deep orange vinyl; first 100 copies with a signed poster, 150 copies with unsigned poster and 250 standard copies.

BUY LP HERE: http://psychotronrecords.co.uk/product/gordon-giltrap-paul-ward-last-england

The Last of England CD
As if he wasn't busy enough, Gordon released his latest album 'The Last of England' on the Angel Air record label in Jan 2017. "It is all good, solid material with the emphasis on melody." says Gordon. "It's a very romantic collection of tunes, because that's what I'm all about. I'm a great devotee of people like Vaughan William's and Elgar - composers who were very much about melody…and that's what I do. I'm a melodic writer for the guitar. When you hear this music it does have an orchestral feel to it, and lends itself to a much bigger picture."


New Fret-King Guitar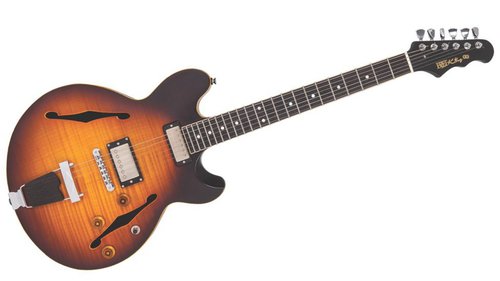 Gordon's latest Signature guitar, the Fret-King 'GG' (FKV3HGG £999 UK rrp) has just started to hit the stores in the UK and the Vintage Roger Williams Nylon Electro Acoustic Model (VE9000RW £599 UK rrp) - based on an original design by the celebrated luthier and also endorsed by Gordon ("A stunning sounding guitar acoustically, and with a great Fishman INK+ preamp and pickup system too!") will be available in mid-October 2016.

Vintage & Fret-King Guitars are distributed Worldwide by JHS & Co. Ltd.

The Gordon Giltrap Collection

Great news folks. The notation and tablature for many of my pieces are available to order as a download from my friend Steve Marsh.

My ambition is to get virtually everything of worth that I have ever composed in music and TAB form available from Steve, and believe me there are a lot of pieces on there. Thus far there are around 70 titles ready and waiting for all you keen pickers who want to have a go at some of these tunes of mine. All titles on this list come in a PDF format which includes both musical notation and Tablature. Each PDF costs £4.50.

There is also a new page in the Discography section which lists the tracks - these are just a taster of things to come, this is just the tip of the iceberg so check back regularly.


Get "up close and intimate" with Gordon
During his 40 year career, Gordon Giltrap has played in pretty much every kind of venue in the UK from the grandeur of Birmingham's Symphony Hall to tiny, out of the way village halls. He enjoys performing in all types of venues and particularly loves the challenge that the smaller venues present where the front rows of the audience are 'up close and intimate'.

This is where YOU come in. If you would like Gordon to perform a private concert especially for you and your friends in your home (or at a venue of your choice) then call or email Sue Holton, her details are HERE

Afterwards, people get to interact with someone they would probably never get to meet in such an intimate setting. Photos are taken, memories shared, CD's autographed, and often lifelong friends are made. Gordon loves it because he gets to meet people who, in many cases, have been listening to his music for years, coming to see him in large venues like theatres, always having to see him from "out in the audience," and only getting to interact with him on a personal level for a couple of minutes after the show. The private concert puts the power back into the hands of the individual fans. Now, you get to choose the venue and the artist comes to you. You can even get your friends and family to club together to pay for a booking - it could be the perfect solution of what to give the person who has everything! Private concerts are the future of intimate performances.
Bert Jansch Foundation

Gordon is delighted to be a patron of this special charity whose work it is to encourage students of the guitar and to keep alive the memory and work of this enigmatic genius.
Bert Jansch Foundation

Tracy Sollis Leukaemia Trust


It has been my pleasure and privilege to be a patron of the Tracy Sollis Leukaemia Trust for twenty years now, and over that time the charity has raised a small fortune being put to outstanding benefits to patients afflicted with this terrible cancer.


Every year I do a fundraising concert, usually over the Easter period at The Fleece in Bretforton just outside Evesham in a medieval 500 year old barn. Each year Hilary and I look forward very much to this small but special event to celebrate the life of this remarkable young girl whose life was so tragically cut short.


On our new
Charity Page
you will find information about the charity and how you can help further the work of
Tracy's
mother
Sue Sollis
who has raised literally thousands from her unstinting downright hard work.
She should be on the honours list for the work she has done to help find a cure for Leukaemia and also to raise money to buy equipment for her local hospital. A truly great human being.


Read the News Update pages for extra details on these items and more.
You will read it first here on the website, but make sure you don't miss anything by signing up for Gordon's email newsletter
"Airwaves"
Click the link in the column to your right.